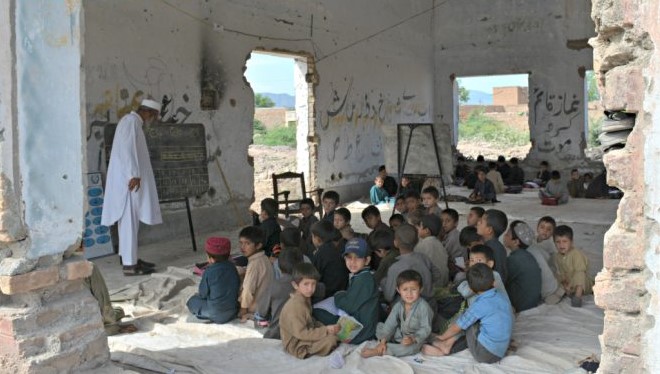 The recent dismal performance in Khyber Pakhtunkhwa's education boards has ignited concerns about the quality of education within government schools. Despite allocating significant annual budgets, and catering to millions of students across thousands of government schools in the province, these institutions consistently lag behind their private counterparts in terms of academic outcomes.
The recent 9th and 10th-grade examinations in Khyber Pakhtunkhwa have unveiled subpar results in several schools. Shockingly, 845 schools under the jurisdiction of the province's five education boards recorded pass rates of less than 50%. According to records from the Department of Primary and Secondary Education, a disheartening 44 government schools—supervised by the Mardan, DI Khan, Abbottabad, Malakand, and Saidu Sharif (Swat) boards—witnessed a complete lack of student success. Furthermore, 126 schools achieved pass rates below 10%, and 84 schools barely managed to reach 20%.
Most distressingly, certain schools reported a 100% failure rate among their students. Among these schools, 322 under the Saidu Sharif Board, 207 in Mardan, 171 in Malakand, 134 in Abbottabad, and 11 in DI Khan displayed pass rates below 50%. In addition, 29 schools in Saidu Sharif, 9 in Abbottabad, 3 in Malakand, 2 in DI Khan, and 1 school in Mardan recorded zero passes.
Also Read: Landi Kotal Peace Rally Advocates Dialogue Amid Pak-Afghan Tensions
Responding to these disappointing results, the Department of Primary and Secondary Education has initiated appropriate actions. Mutasim Ballah, Secretary of Primary and Secondary Education, has requested data on schools with poor performance. Subsequently, measures will be taken against school heads and teachers responsible for these undesirable outcomes. Plans for improvement are also in motion for upcoming exams, with an inquiry committee diligently reviewing the findings across all participating boards.
Surprisingly, despite the significant budget allocated to the education department of Khyber Pakhtunkhwa—over 99 billion rupees for the first four months of this year alone—government educational institutions continue to underperform. This budget accounts for more than 23 percent of the provincial budget for the current fiscal year.
Adding to the crisis, thousands of teaching positions remain vacant within government schools in Khyber Pakhtunkhwa. According to data from the Department of Primary and Secondary Education, a total of 21,137 teaching positions are unfilled. This includes 11,709 vacant positions in government boys' schools and 9,428 in government girls' schools. Administrative roles in schools are also left vacant, with 109 schools for boys and 102 for girls lacking principals. Furthermore, there is a pressing need to fill 3,853 Primary School Teacher (PST) positions, 320 vacancies for Physics teachers, 276 for Chemistry, and 297 for Biology.
Hits: 1018