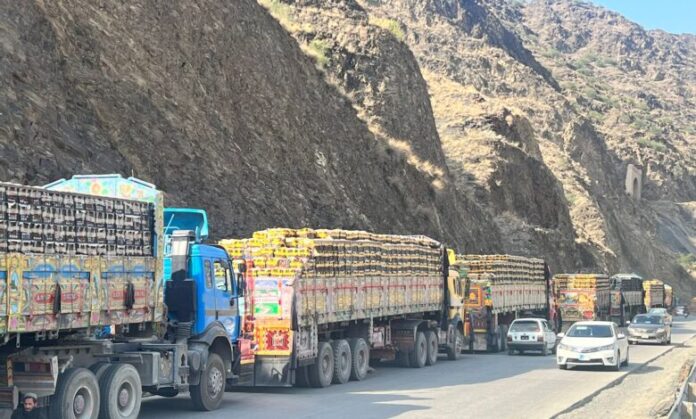 Mehrab Afridi
At the Pak-Afghan Torkham border, a significant number of vehicles loaded with fresh fruits and vegetables remain parked, awaiting clearance from the Plant Protection Department (PPD). This delay has sparked protests by customs clearing agents who are demanding the release of these vehicles to prevent potential spoilage.
The customs clearance agents argue that vehicles carrying fruits and vegetables without PPD clearance should be allowed to proceed due to concerns over the produce deteriorating. They emphasize the lack of appropriate facilities and designated areas for fumigating these vehicles at the Torkham border.
Various types of vehicles, laden with grapes, tomatoes, and other fresh produce, are stranded at the border, resulting in significant financial losses for the business community. Representatives of Torkham Customs Clearing Agents, including Mujeeb Shinwari, Shah Jahan, and Kharaj Khan, voiced their grievances during the protest.
Also Read: Water Scarcity Plagues Tank District, Residents Plead for Relief
They pointed out that the authority for PPD clearance at the Torkham border has rested with customs authorities since 2018 due to the absence of adequate facilities and office space for the Plant Protection Department in Torkham. Fumigating vehicles for pest control is practically impossible under these circumstances.
The prolonged closure of the border for nine days, coupled with the extreme heat, has raised concerns about the potential damage to the fruit and vegetable shipments. The customs clearing agents have announced their intention to file a case in the High Court in response to this policy.
In response, Umar Farooq, the in-charge of the Plant Protection Department in Torkham, explained that the PPD Director-General issued a formal letter on September 11 outlining the implementation of the PPD quarantine process for fresh fruits and vegetables, effective from September 18. However, they have yet to receive a response from the DG Plant Protection Department Karachi regarding their lack of facilities at the Torkham border.
The department is awaiting specific directives and has highlighted the necessity of challans with phytosanitary certificates and region certificates for every vehicle under PPD regulations. They have also sought a suitable location for PPD fumigation spray from the National Logistics Cell (NLC) but have not received a definitive response.
While this policy was initially slated for implementation in 2018, a lack of facilities led to customs authorities assuming responsibility for clearance at that time.
Hits: 5