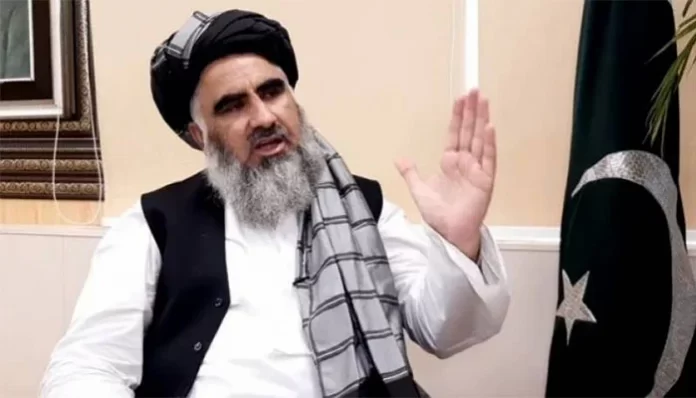 Asmat Shah Garwaki
The funeral prayers for Mufti Abdul Shakoor, Federal Minister for Religious Affairs and leader of the Jamiat Ulema-e-Islam (F), who passed away in a tragic traffic accident in Islamabad, were held yesterday in his hometown of Lakki Marwat. The funeral was attended by a large number of locals, political and religious figures, as well as party workers.
Mufti Abdul Shakoor was born on January 1, 1968, in the village of Tajikhel in Laki Marwat, Khyber Pakhtunkhwa, to the family of Sardar Khan. He began his education at Madrasah Dara Pizo and later attended Akora Khattak in Nowshera, where he completed the fifth grade. He was elected as the Tehsil President of Jamiat students from Banu and Lakki Marwat while in the fourth grade.
Mufti Abdul Shakoor obtained a degree in Philosophy from Shah Waliullah University in Hyderabad in 1991, and a Masters in Islamic Studies from Darul Uloom Haqqania, Akora Khattak in 1993. He was appointed as Khatib (Orator) of a Jama Masjid in the Palosai area of Peshawar in 2002 and served as an Imam there until his passing.
In the 2018 general elections, he was elected as a Member of the National Assembly from Constituency 51, representing the Muttahida Majlis e Amal party. On April 19 last year, he took the oath as Federal Minister for Religious Affairs and Interfaith Harmony, a position he held until his untimely death.
Mufti Abdul Shakoor served on several committees as a member of the National Assembly, including the Standing Committee on Foreign Affairs and Planning Division, and the Special Committee on Development of Former FATA. He was also the JUI 'Ameer' for Tribal Areas and Convener of Grand Jirga All Tribes, in addition to being a special advisor to the head of Jamiat Ulema-e-Islam and a member of the Majlis e Shura of JUI.
In addition to his political career, Mufti Abdul Shakoor had a passion for teaching and was associated with Darul Uloom e Sirajul Islam Peshawar as a teacher for the past 20 years. He taught philosophy, logic, jurisprudence, hadith, commentary, and fatwa writing.
Mufti Abdul Shakoor was married twice and had two daughters from his first wife, who were married in the area, and a younger son named Muhammad from his second wife. He aspired for his son to become a religious scholar like himself by receiving religious education rather than worldly education.
As an elected representative, Mufti Abdul Shakoor was committed to serving his nation and bringing harmony, peace, and prosperity to the lives of ordinary citizens. He worked tirelessly to improve social security and welfare and to bring education and other essential services to the people of his constituency, Lakki Marwat. He also aimed to foster good relations with other Muslim and non-Muslim countries around the world.
Mufti Abdul Shakoor was a respected and effective voice in Parliament, where he advocated for the needs of ex-FATA and made significant contributions to the formulation of the Hajj policy and the Quran Board law, as well as securing dollars for Hajj pilgrims. His legacy will live on as a symbol of devotion and commitment to serving others.
Hits: 43