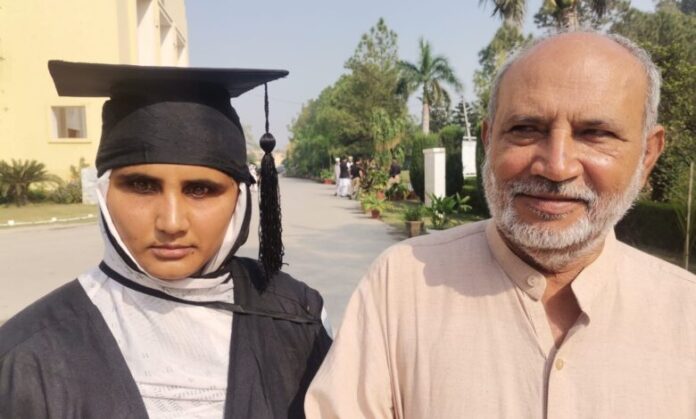 Zeeshan Kakakhel
Samina Saeed, a resident of Warsak Road in Peshawar, has achieved a remarkable feat by winning a gold medal in the Department of Islamic Studies, defying the challenges posed by her visual impairment.
The University of Peshawar hosted its annual convocation ceremony this Monday, where Samina, a visually impaired student, was awarded a gold medal alongside her degree. Samina, who hails from a family of one sister and two younger brothers, expressed her determination to continue her educational journey and encouraged others not to lose hope.
She emphasized that it's through courage and determination that one can attain the highest levels of success.
Also Read: Pakistan's Journalist Safety Laws: Promise and Reality
Samina Saeed stressed that individuals should not perceive themselves as inferior due to visual impairment or any other disability. She urged everyone to work diligently and have faith in Allah. She also shared her belief that, just as she outperformed her classmates today, others can step forward, contribute significantly, and play a pivotal role in their country's development. Samina's classmates celebrated her success and highlighted her as a prime example of how hard work leads to success.
Samina's father, Masoom Shah, who retired as a senior clerk from the Zakat and Ushar Department, expressed immense joy at his daughter's achievement. He emphasized the importance of parents providing strong guidance and support to their children, enabling them to excel in various fields.