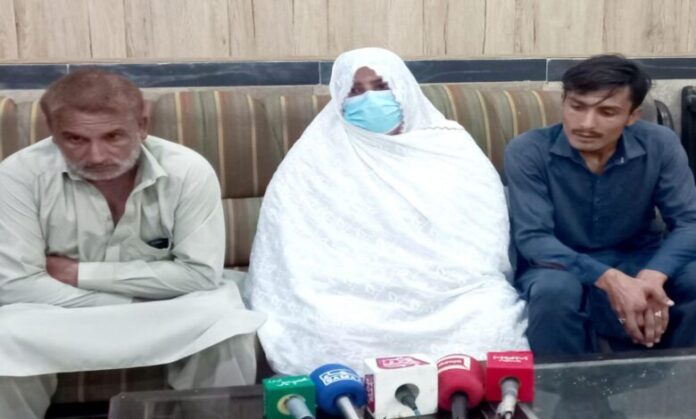 A. Sattar
A woman social worker in Mardan has come forward with serious allegations against the in-charge of the Manga police outpost, stating that he has wreaked havoc in her life. During a press conference held at Mardan Press Club yesterday, the woman, a resident of Mangah, expressed her frustration over the in charge's inappropriate behavior and illegal demands, calling for protection and justice from higher authorities.
The woman, who is also a mother of two children, accused Sabir Khan, the outpost in charge, of making unlawful demands, subjecting her to harassment on various pretexts. Recently, she noticed suspicious individuals in white attire near her house, leading her to believe that these actions were orchestrated at the behest of the said in-charge.
Adding to her distress, the police allegedly violated the sanctity of her home and apprehended her son under Section 107 last night, taking him around to different police stations. She informed the SHO of the Sadar police station about the situation, but justice seems elusive. Demanding relief from the outpost in charge's cruelty and mistreatment, the woman urged higher authorities to take action against him and ensure her protection.
Also Read: Chota Dubai: Ajoon Kaly's Notorious Global Drug Empire!
In response to these accusations, Assistant Sub-Inspector Sabir Khan, the in-charge of Police Station Sadar Manga Chowki, refuted all the claims made by Naveeda, wife of Manga resident Humayun.
He clarified that two separate cases under sections 107 and 151 have been registered against Naveeda's son, Zul-Qarnain, following complaints from the respective individuals. Zul-Qarnain was arrested yesterday and subsequently presented in court, where he was released on bail.
ASI Sabir Khan explained that after the arrest, Naveeda visited the police station and directed abuse towards the officers. However, the police officers exercised patience due to her gender. Humayun, her husband, allegedly made threats and demands for a transfer. Additionally, there have been complaints related to drug dealing involving her son.
Hits: 5