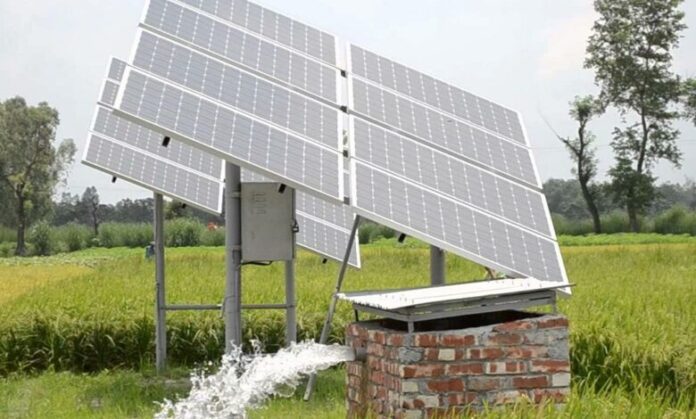 Muhammad Bilal Yasir
Gul Zaman hails from Shahgo Mamund, an underdeveloped region in Bajaur. Once a laborer in Saudi Arabia, he now cultivates crops in his fields. To achieve this, he established a solar-powered tubewell, equipped with solar panels. He shares that in the past, prolonged power shortages led to water scarcity. However, solar tube wells have transformed the situation, ensuring an uninterrupted water supply.
He affirms that these solar-powered tube wells have addressed a major concern in the area. With seamless operation for seven to eight hours, the system proves highly dependable. Gul Zaman installed this solution around four years ago, and it hasn't halted or required repairs since. The water serves both irrigation and domestic needs.
Prior to adopting solar-powered systems, electric and diesel-operated tube wells frequently malfunctioned, resulting in substantial repair expenses, he recounts.
Also Read: Peshawar: Local Newspaper Closure Sparks Outcry
Pakistan, an agrarian nation, relies on agriculture as its economic backbone. In regions lacking irrigation infrastructure, farmers turn to tubewells to water their lands. This applies to tribal districts in Khyber Pakhtunkhwa, remote areas of Sindh, and Balochistan. Daily power outages adversely affect farmers and hinder agricultural output, impacting the country's foreign exchange reserves.
Farmers traditionally opt for tube wells, factoring in their needs, but the adoption of solar-powered alternatives, instead of relying on electricity or diesel, allows for quicker capital recovery.
Engineer Shah Noor Khan specializes in solar panel system repairs at Inayat Kalay Bazaar. Installing solar systems across different regions is his routine. He underscores that solar water systems sidestep electricity costs, load-shedding woes, and generator expenses. A well-designed system functions continuously for up to seven hours a day over a quarter-century, substantially bolstering crop yield.
He points out that escalating taxes have inflated solar panel costs, burdening small-scale farmers who seek to benefit from this technology. Government incentives could prove beneficial, particularly if the authorities extend a 50% discount on solar tubewell installations to small farmers. Recognizing agriculture's pivotal role in the economy, such support would be valuable.
Haji Gulfraz, a prominent solar panel wholesaler in Khar, Bajaur's primary trading hub, reports the thriving solar energy business. The demand for solar panels has surged in Bajaur in recent years as awareness about this technology grows. Solar panels worth substantial amounts are now employed not only for water needs but also for powering household appliances, creating a sense of reliance within the local community.
Hits: 16