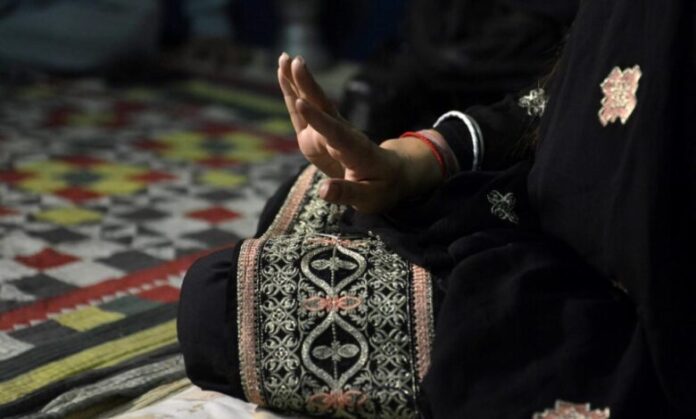 Shazia Nisar
"Since childhood, I had closely felt the pain hidden behind dancing, the jingle of musical anklet/bells, and its melodious voice, so I got married to live a life of dignity, but I did not know that those of us get honor or respect only by luck."
Karishma, a dancer living in Baar Mohalla, an area of Swat once famous for its dancing girls, was busy preparing for a dance. In the darkness of the night, when light fell on her feet, she realized that the anklets/bells were waiting for the jingling, and soon this will amuse the ears of the audience.
Karishma Khan, a charming beauty, has been dancing for many years and this is her life and livelihood. Talking to TNN, she said that at the age of 15, she started dancing to earn herself and her family bread, and at the age of 19, she got married to a businessman from Punjab to lead an honorable and dignified life.
Also Read: Brother kills Pashto singer in Swat
Karishma, maintained this was her husband's second marriage, but she was happy, living her dream, as she believed then that now she was a man's responsibility and not hers.
She said hell broke loose when she found out during pregnancy that she was going to be the mother of a daughter, then her husband told her clearly that he did not want a daughter from a "damma" (a Pashto counterpart word for a dancer or a prostitute).
"After that, my husband stopped giving financial assistance and I lived in agony for five months, but in no case did I agree to abort the baby, I left the house and divorced my husband through a Jirga, and after the birth, I left the hospital and went straight to Swat," the dancer recounted.
According to Karisma, the story did not end here, "After the birth of the daughter, my ex-husband started blackmailing me and demanded that I give money or he would take the girl with him, but I knew that the girl will die there of hunger, that's why I paid 2.5 million rupees to my ex-husband in exchange for our baby girl."
She said, "Like every woman, we also want to have our own house, husband, and children and we too want to live a life of dignity, while after marriage I did not want to return to this life at all, but as fate would have it, I am still living the same old life here."
It's worth remembering that Banr Mohalla was settled during the reign of Abdul Wadud, "Wāli of Swat" (Wāli, a title for the ruler of the erstwhile princely state of Swat), and people related to art in different areas of Khyber Pakhtunkhwa started settling there.
Before the unrest in Swat a decade or more ago, their business was booming, but after the escalation of tension and the killing of dancer Shabana, this neighborhood became deserted and these people also went to Peshawar, Mardan, and Islamabad as IDPs. After the restoration of peace, a small number of these people returned to Swat.
Earlier 80 skilled families were settled in Mohalla Banr and Malukabad and now only 14 families are left.
Sirajuddin, a 'Tabla Nawaz' (drummer) from Banr, said that fear is also the reason for the loss of talent from here, but most of the dancers got married and gave up this art, or after returning to Swat, the men took alternative jobs and did not allow their wives and daughters to come to this side, which is why this art is dying, leaving Rabab, harmonium and 'tabla' players jobless.
Sirajuddin said that Banr has given many famous names and beautiful voices to Pashto art, including internationally renowned singers Nazia Iqbal, Ghazala Javed, Neelo, Maskan Fayyaz, and dancer Shahnaz.
Hits: 17