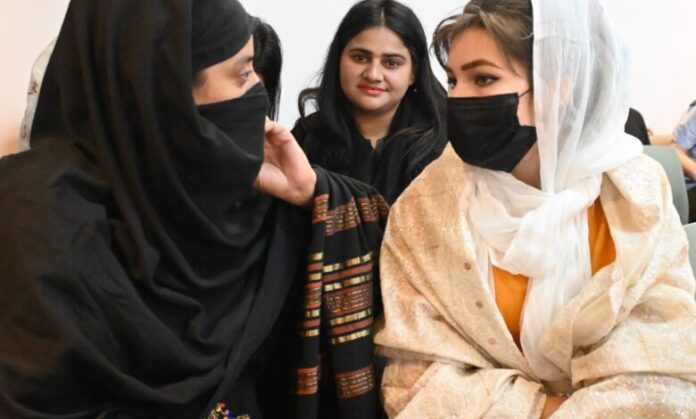 Khalida Niaz
Only women can better highlight women's issues in the media, but unfortunately, there are very few women reporters in our country, especially in Khyber Pakhtunkhwa. Though there are some women working in the field, however, they are not in positions where they can do better reporting on women.
Women in the media have no say in decision-making, and they have to work on the beats assigned by their editors, (despite the fact that) only women can highlight women's issues in a better way because a woman knows what women go through, what problems surround them and how or when they need help.
Yesterday, I participated in a one-day seminar, "Diversity in Media-Challenges and Opportunities", where I heard a lot about diversity.
Apart from women, transgenders, Afghan refugees, and special people were also discussed in the conference; how media ignore them and doing so their problems remain hidden from the eyes of the world.
Farzana Ali, Khyber Pakhtunkhwa's first woman bureau chief while telling about her struggle, said that in the beginning, the only one supporting her was her father and no one else was in favor of her joining journalism, but she worked hard and today she is in a position where she is not only providing a good environment for women at her office but also has the right to discuss women's issues and make decisions.
She said the problems that persisted then are still prevalent, but women have to be brave enough, as 'there is no gain without pain'. "Women will have to work harder than men to make their presence felt,'' she said
But here a question arises in my mind, 'do we accept women as bosses in our society? Whenever a woman reaches a position through hard work, these mentally-retarded people start saying that she is a woman, which is why she is getting a chance.
The same happens with me; whenever I get a fellowship, people around me say that I am a girl, and that's why I get opportunities.
Everyone, at the seminar, talked about diversity in the media, which I don't see at all because the media only talks about politics; Imran Khan said this, Nawaz Sharif is saying this, so-and-so is protesting blah blah… But no one is talking about the problems.
No one cares about the problems of women, what problems transgenders face, what problems disabled people face, and what problems are three million Afghan refugees going through!
What media has to do with it, that cares only for views and Commercials.
I am not saying that one should not discuss politics but other issues also need to be addressed because the media is the voice of people, where problems can be highlighted and solutions can be found.
Another important point I would like to make here is that the community, whose issues are being discussed, should be made a part of it because an Afghan refugee can report better on refugees, a transgender can best represent his class, and a woman can be the best reflection of women.
This will not help to limit them to reporting and to the screen only, they should also be empowered by letting them have their say in decision-making as well.
Hits: 14