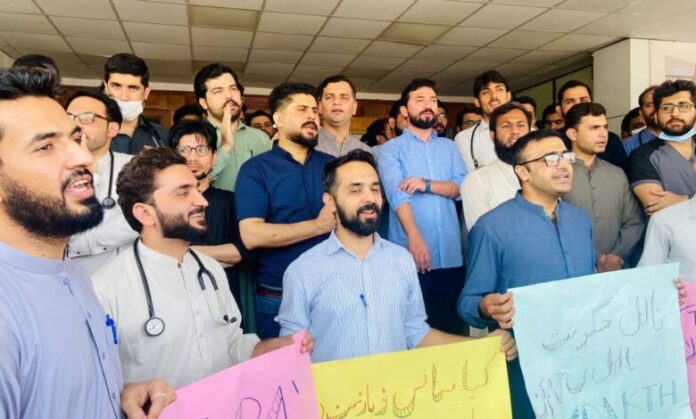 Khalida Niaz
Trainee Medical Officers (TMOs) in Khyber Pakhtunkhwa have announced a boycott of elective services in hospitals across the province in protest against non-payment of salaries, causing inconvenience to patients who require medical treatment.
Dr. Mujahid, Senior Vice President of the Young Doctors Association at Khyber Teaching Hospital, stated that they have two types of demands; some can be resolved immediately, while others may take time. The most pressing issue at present is the non-payment of their salaries.
Dr. Mujahid stated that their salaries have been delayed continuously for the last five to six months, with payments sometimes arriving after 12 or even 15 days. It is now the 15th of the month, and they have not yet received their salaries.
Also Read: Solidarity rally for Pakistan Army in Khyber District
The TMOs have held several meetings with PGMI, Finance Department, and Health Advisor to resolve their grievances, but no progress has been made.
The TMOs are also facing difficulties in managing their personal finances. They are unable to pay their electricity bills or their children's fees, and they are struggling to meet their basic needs. For some TMOs, who are the sole breadwinners of their families, the delayed salary payments are causing immense hardship.
Dr. Mujahid has demanded that their salaries be released immediately and that the authorities commit to paying their salaries before the 3rd of each month. If their demands are not met, they will continue with their protest.
According to Dr. Faisal, spokesperson of the Young Doctors Association, there are more than 6,000 TMOs in the province.
Dr. Mujahid stated that they have boycotted elective services such as Out-Patient Departments (OPD), ward rounds, and non-emergency surgeries but continue to provide emergency services.
In the long term, TMOs are also demanding an increase in their salaries. They have not received any increase in their salaries for the past five years, and the current level of pay is insufficient to meet their needs, particularly in the current era of inflation. They are demanding that their salaries be aligned with those of doctors in Punjab and Islamabad.
The boycott has resulted in patients being turned away from hospitals and being forced to seek treatment elsewhere. The situation is particularly dire for patients from low-income backgrounds who are already struggling to afford healthcare.
Last month, the Caretaker Government of Khyber Pakhtunkhwa waived the payment of advance salaries to government employees on Eid due to financial constraints. According to the provincial finance department, there was not enough money in the government account to pay the salaries of government employees in advance.
Hits: 7