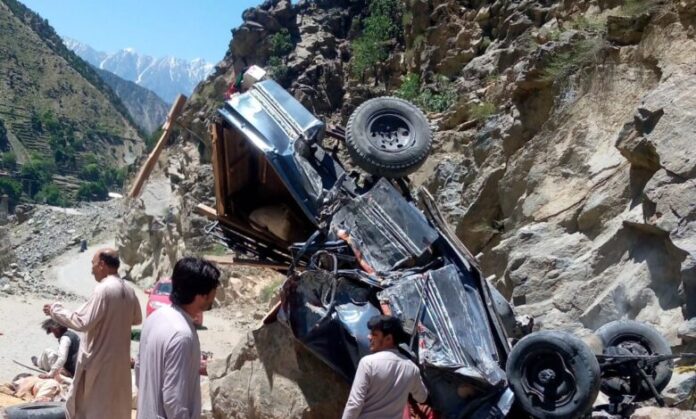 In the Ashirate area of Lower Chitral, a tragic accident occurred when a Datsun carrying passengers plunged into a deep ditch, resulting in the loss of eight lives and leaving thirteen individuals injured.
According to Rescue 1122, the vehicle was en route from Upper Dir to Lower Chitral when the accident happened due to brake failure at Kochhangul. The deceased and injured individuals are reported to be members of the same family.
Immediately following the incident, the rescue team swiftly arrived at the scene and promptly transported the deceased and injured individuals to the District Headquarters Hospital in Chitral.
Also Read: Gunmen Kill Two Policemen and Bank Security Guard in Mingora Attack
Rescue personnel stated that five people, including two children and two women, lost their lives on the spot, while two others succumbed to their injuries at the District Headquarters Hospital in Chitral.
Expressing concern, rescue officials mentioned that the death toll could potentially rise, as some of the injured individuals are currently in critical condition.
It is important to note that the continuous heavy rains and floods in the upper and lower areas of Chitral have caused significant damage to the roads, resulting in such accidents occurring frequently in the region.
Hits: 13