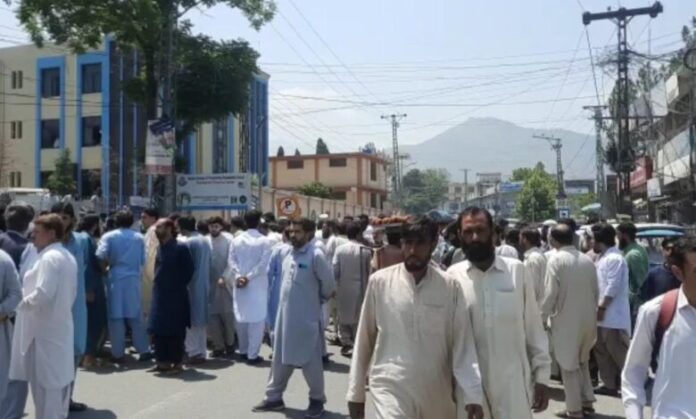 Rafiullah Khan
In a tragic incident near the vegetable market in Mingora, the main town of Swat, two policemen and a security guard of a private bank lost their lives when unidentified gunmen opened fire. The attack sent shockwaves through the community, prompting protests and demands for justice.
According to the police, the incident occurred early in the morning when armed assailants targeted two policemen, Umra Khan, and Ashraf Ali, resulting in their immediate deaths. Additionally, Musa Khan, a security guard at a private bank, sustained injuries in the gunfire. Despite being rushed to Saidu Sharif Hospital for medical treatment, he tragically succumbed to his injuries.
The news of the casualties sparked anger and grief among the relatives of the martyrs, who staged a protest by placing the bodies on the road outside Saidu Sharif Hospital. As a result, the Saidu Sharif Mingora Road was temporarily closed to all traffic. Demonstrators voiced their frustration, expressing that the police were continuously being targeted, and they called for the swift arrest and punishment of the culprits.
Also Read: Swabi: Son Fatally Shoots Parents after Demanding Money for Dubai Trip
In response to the incident, Mingora police have taken immediate action. A letter has been issued to the Counter Terrorism Department (CTD), and an FIR is being registered at the CTD police station. The area has been cordoned off, and a thorough search operation is underway to bring the perpetrators to justice.
Initial investigations revealed that three armed individuals, whose identities remain unknown, were captured on CCTV footage as they opened fire and specifically targeted the police personnel. The investigation is ongoing to identify the culprits and establish their motives.
Meanwhile, the outlawed Tehreek-e-Taliban Pakistan has claimed responsibility for the attack on the Swat police. In a statement issued to the media, the banned group asserted that it carried out the targeted assault at the vegetable market.
Recent incidents, such as the attack in the Banjot area of Manglor, have created an atmosphere of fear and insecurity in the region. Addressing the public's concerns, Khyber Pakhtunkhwa Police Chief Akhtar Hayat Khan Gandapur, in a press conference, labeled the attacker as terrorists and assured them that they would be apprehended and brought to justice.
Hits: 28