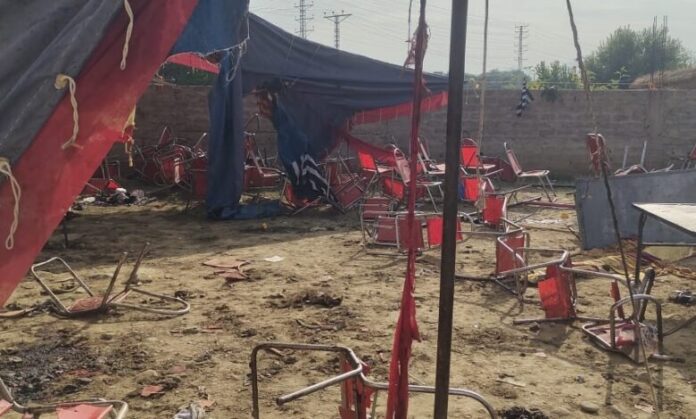 Bilal Yasir
On the day of the Jamiat Ulema-e-Islam workers' convention, an exception was made to the usual office closure on Sundays. Central leaders were attending the convention, and as a result, I had to report for office duty. I sent my colleague Samiullah, the cameraman, to cover the meeting and stayed in the office for a while to take a break.
At five in the afternoon, while leaving the office to attend a wedding ceremony in Lagharai Mamund, I received a call from Samiullah. He provided me with a list of the expected guests at the meeting, and I quickly noted down the information before heading out.
The meeting venue was on the way to my house, and I passed by around 3:45 PM. Stopping the motorcycle briefly, I glanced at the gathering while on my way to my destination. Little did I know that an apocalypse was about to unfold at that very place. Exactly half an hour later, my phone rang again. One of my colleagues asked if I was at the Convention, and I replied, "No!" That's when he broke the devastating news of the explosion.
Also Read: Power Shortage and Inflation: Burdening Pakistan's Poor
Despite trying to reach Samiullah through various sources, we couldn't get any information about his condition. His number was unreachable. Finally, as the list of injured started to emerge, I saw Samiullah's name among them. Worried about his well-being, I rushed to the hospital.
At Bajaur Khar Hospital, dozens of dead bodies were so mutilated that they couldn't be identified easily. The scene was heart-wrenching, akin to doomsday. In front of the mortuary, a person informed me that the imam of our mosque was neither among the injured nor among the dead. I was shaken by the news and rushed to the place.
The imam's younger son stood there holding one of his father's shoes, sobbing and proclaiming that his father had been martyred because he recognized the shoe. We tried to console him, but his cries continued, shaking our hearts.
After some time, we identified our previous imam among the unknown bodies through a watch and a ring. The hospital scene resembled that of Karbala, and we had to gather the pieces of human corpses with our own hands.
Late at night, we conducted four funerals in front of our mosque. It was a heart-wrenching sight as we bid farewell to loved ones whose bodies were burnt or dismembered, making it impossible to perform the rituals properly.
This explosion left an indelible mark on my life's bitter memories. Bajaur will mourn for a long time after this tragic event, and we will never forget the 55 lives lost and the 90 injured, forever etched in our hearts.
Hits: 21