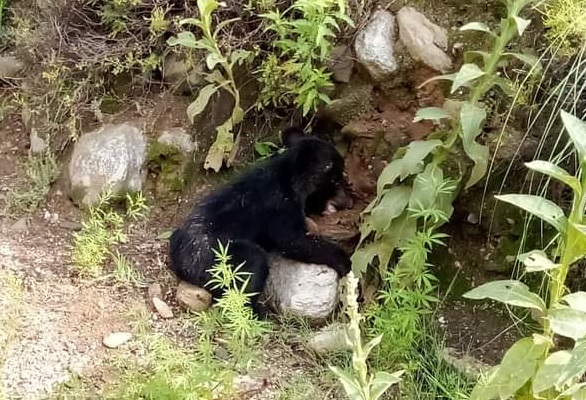 Haroon ur Rasheed
The tragic death of a female bear in Mansehra district, Khyber Pakhtunkhwa, allegedly shot by hunters, has brought to light the reasons behind the incident. According to the Wildlife Department, local poachers illegally shot the mother black bear, injuring her in an attempt to snatch her cubs from her, which eventually led to her demise.
Sarmad, DFO Wildlife Mansehra, stated that the investigation revealed the female bear had two cubs, and hunters targeted the mother bear in an attempt to capture her cubs. During the shooting, the hunters managed to capture one cub, while the other escaped into the forest to save its life.
As the case unfolds, three individuals have been identified as suspects and authorities are conducting raids to arrest them and recover the missing bear cub.
Also Read: Historic Clock Tower at Islamia College University Fails to Tick
Earlier, on July 19, a seriously injured female black bear was discovered in the Bhormang area and was promptly taken to Dhodial Medical Center for treatment by local residents and wildlife department officials. Despite their efforts, she couldn't survive.
The search for the escaped bear cub is ongoing, and once found, both cubs will be transferred to Peshawar Zoo for care and rearing.
Discussions are underway with the Islamabad Wildlife Management Board for the recovery of the bear cub. The named suspects are expected to be apprehended soon, leading to the recovery of the cub from their possession.
Local residents have demanded a strong crackdown on illegal wildlife hunting in the area and justice for the cruel act committed by the poachers. They have warned the wildlife department that failure to apprehend the poachers immediately may lead to formal complaints being filed against them with the provincial chief secretary and forest secretary.
Hits: 37