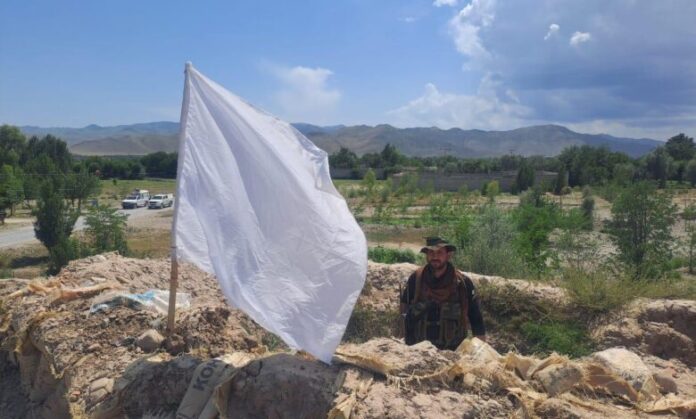 Ali Afzal
Two more fatalities and 15 injuries have been reported in the ongoing seven-day clashes between tribes in the Kurram district. In an effort to establish peace, the Aman Jirga, under the supervision of DC Kohat, brokered a ceasefire at two key locations, leading to the evacuation of warring tribes and the deployment of security forces.
The clashes, which have now lasted for a week, have resulted in a total of 13 deaths and 92 injuries in the Kurram district. The tribal conflict involved the use of heavy and automatic weapons, forcing nearby villagers to seek safer locations.
The region has experienced significant disruptions as a result of the fighting. Transportation routes, markets, and educational institutions remain closed, and Internet services are still suspended.
Also Read: GB Chief Minister Candidate Gulbar Khan Wanted by Police, Faces Charges
DMS Dr. Qaiser Abbas Bangash confirmed the casualties, stating that most of the injured individuals have been discharged after receiving initial medical aid.
Meanwhile, the Aman Jirga, under the guidance of Kohat Commissioner Dr. Azmatullah, successfully engaged in discussions with Shia elders in Parachinar following talks with Sunni elders in Sadda. Jirga member Seth Gauhar Bangash expressed regret over the loss of precious lives and the hardships faced by the local population. He stressed the importance of preserving Pashtun traditions and urged the Pashtun brothers to prioritize peace.
Deputy Commissioner of Kurram District, Saif ul Islam Shah, announced that the Jirga members, along with tribal elders and security forces, have arrived in the area to enforce a ceasefire at five different locations. Ongoing efforts are being made to achieve a complete cessation of hostilities, with security forces deployed at most frontlines.
Sources indicate that a ceasefire has been established in Pewar, Tari Mengal, Gedu, Danish Khel, and Khar Kaly through the assistance of the Jirga. However, sporadic firing is still occurring in Para Chamkani, Karman, Muqbal, and Kunj Alizai.
Federal Minister for Overseas Pakistanis, Sajid Turi, stated that the GOC Nine Division, DIG Kohat, and Commissioner Kohat are present in Parachinar to restore peace. He assured that necessary action will be taken against those who disrupt the peace in Kurram district, emphasizing the collective desire for peace among all tribes.
Turi further expressed the necessity of peace for the region's better future and revealed plans to convene a Grand Jirga soon to address settlement issues before the month of Muharram.
The clashes, initially sparked by property disputes in the Boshehra and Dander areas of Kurram district, gradually spread to other areas, leading to the current situation.
Hits: 31