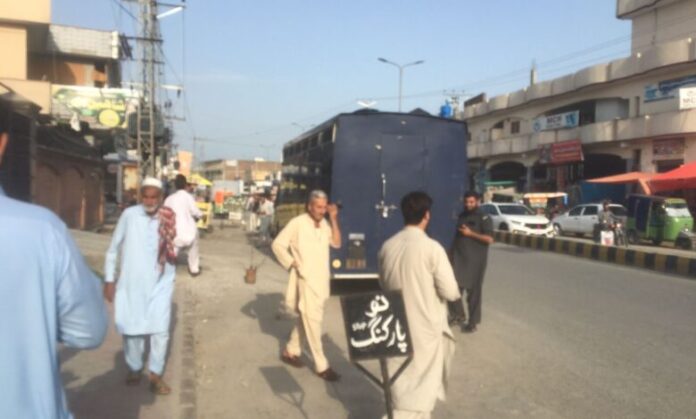 Salman Yousafzai
After completing his late-night work at the office, Fayyaz Zafar, a journalist from the Swat district of Khyber Pakhtunkhwa, encountered a startling scene as he descended the stairs. Parked below were police cars, and before he could comprehend the situation, they swiftly apprehended him and placed him in their vehicle without explanation. When Fayyaz inquired about the reason behind his arrest, he faced physical violence.
This account was recounted by Fayyaz Zafar, who, on August 30, was arrested by Swat Police under the Maintenance of Public Order (MPO) ordinance and subsequently transferred to jail, following the directives of the Deputy Commissioner of Swat.
Fayyaz Zafar, who works as a correspondent for Voice of America (VoA) in Swat, continued his narration: "I repeatedly asked the police officers about the cause of my arrest, but they remained silent. It wasn't until we reached the residence of District Police Officer Swat, Shafiqullah Gandapur, that the police presented me with a warrant and informed me that I was being arrested under the 3MPO."
Also Read: Doctors in KP's HMC Initiate Duty Boycott; Protest May Spread Across Province
He revealed that he had been unwell and unable to walk for an extended period. After his arrest, his car was left outside the DPO's residence, and he willingly surrendered himself to the police. They then transported him to Swat Jail, and Fayyaz claimed that his vehicle was damaged during the arrest.
On August 30, a statement released by the Deputy Commissioner of Swat stated, "Fayaz Zafar was arrested under the 3MPO for disseminating false information on social media and news channels, inciting public sentiment against the government, and defaming certain individuals."
Contradicting this statement, journalist Fayyaz Zafar vehemently denied engaging in any activities on social media that involved spreading falsehoods, inciting anti-government sentiments, or defaming anyone. He asserted that his arrest was linked to a news report he filed for the daily Mashriq. The report highlighted allegations that goods meant for police head constables, imported from Tajikistan, were sold in the market for 75 million rupees by the deputy commissioner or his staff. Fayyaz's report also mentioned the involvement of the Deputy Commissioner in this matter. He firmly believes that it was this report that led to his arrest under the 3MPO.
It's important to note that Fayyaz Zafar initially shared news of his arrest on social media, claiming that he was detained by the Deputy Commissioner of Swat and the DPO. Subsequently, politicians, human rights advocates, and fellow journalists took to social media to condemn his arrest and voice their support. As a result, the Deputy Commissioner rescinded the 3MPO notification the following day, leading to Fayyaz's release.
Worth mentioning is that DPO Swat Shafiqullah Gandapur declined to provide a statement regarding this incident. Despite contacting Swat Police for their response, no official comments have been received thus far.
Daughters' Tears Aggravated the Situation
Fayyaz Zafar's distress extended beyond his own predicament; he expressed deep concern for his mother and two young daughters. His mother, already grappling with a heart ailment, was at risk of further deterioration in her health upon learning of his arrest. As for his daughters, the news of their father's apprehension was utterly unbearable.
He recounted that from the moment they learned of his arrest until his eventual release, his daughters cried incessantly, beginning at 11 p.m. When he returned home, he discovered that their anxiety had been so overwhelming that they hadn't even attended school during his absence.
Fayyaz alleged that even after this harrowing incident, he continues to face harassment in various forms. There were reports of a potential filing of another First Information Report (FIR) against him, but for reasons unknown, the FIR was not pursued against him once more.
Fayyaz Zafar: An Unbiased Journalist
Rafiullah Khan, the President of the Swat Press Club, lauded Fayyaz Zafar's unwavering dedication to journalism despite the challenging circumstances of being confined to a wheelchair for several years. He vehemently condemned the journalist's arrest and subsequent mistreatment, emphasizing that Fayyaz Zafar is known for his impartiality and unbiased reporting. There exists no grounds for his arrest and the subsequent ordeal he endured.
Rafiullah Khan elaborated on his efforts to secure Fayyaz Zafar's release, including reaching out to the Inspector General of Police in Khyber Pakhtunkhwa to apprise him of the situation and request the journalist's immediate release. In the aftermath, a concerted plan of action was devised, and a Jirga (tribal council) was engaged to communicate with the Deputy Commissioner and District Police Officer of Swat, ultimately leading to Fayyaz Zafar's release.
The Swat Press Club President emphasized the immense challenges journalists face in Pakistan, particularly in Khyber Pakhtunkhwa, where they encounter various forms of harassment, threats, and even abductions. This hostile environment necessitates a journalist's utmost responsibility, as media organizations and owners often fail to provide support in such circumstances. Many journalists, fearing repercussions, avoid taking risks, but Fayyaz Zafar continues to uphold his responsibilities despite the dangers. In this specific incident, his organization extended unwavering support.
Furthermore, Rafiullah Khan highlighted the prevailing confusion among journalists in such situations. Journalists understand that adhering to truth and impartiality in their reporting may subject them to unjust consequences. He noted that journalists in Pakistan often grapple with economic vulnerabilities, further restricting their exercise of freedom of expression.
Rafiullah Khan concluded by urging journalistic organizations to take tangible measures to prevent such incidents. With their genuine efforts, it is plausible that journalists will no longer be exposed to such violence, allowing them to fulfill their responsibilities without fear or intimidation.
What Powers Does the 3MPO Act Give to the Police?
The Maintenance of Public Order Act, commonly referred to as 3MPO or the Maintenance of Public Order Act, empowers the police with specific authority concerning individuals whose actions are perceived to disrupt public order. This law has been in existence since the British colonial era prior to the partition of India and has continued in Pakistan with minor amendments.
According to Clause 3 of the 3MPO Act, if the government believes that an individual's actions may disturb public peace in any manner, it can issue an order for their arrest or detention. Furthermore, if the government deems that the arrested person could pose a threat to public order, it retains the authority to extend their detention. However, it's important to note that such detention cannot exceed a consecutive six-month period.
The law also permits the arrest of an individual with an arrest warrant by a sub-inspector of police or an officer of higher rank without the necessity of displaying the warrant.
In cases where an individual's detention is deemed necessary for a period exceeding three months, the High Court is mandated to establish a board. This board is responsible for evaluating the reasons justifying an extension of the detention period for the arrested person.
Section 16 of the same Act grants the authorities the ability to take action against rumors, referred to colloquially as '16 MPO.' Under this provision, individuals can be arrested if their spoken or written words, or even audio recordings, are perceived by the government as spreading false information or rumors that may endanger the public or any specific group. Such individuals can face imprisonment for up to three years, fines, or both, depending on the severity of the offense.
Note: The report is part of the Pakistan Press Foundation (PPF) Research Fellowship.