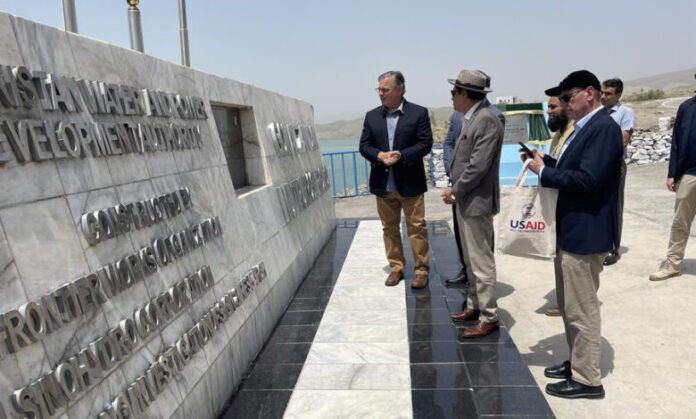 Peshawar: U.S. Ambassador Donald Blome paid a visit today to the multi-purpose Gomal Zam Dam located in the South Waziristan District of the Newly Merged Districts (NMDs) of Khyber Pakhtunkhwa (KP). He was accompanied by Lt. General (retired) Sajjad Ghani, Chairman of the Water and Power Development Authority (WAPDA), and Muhammad Javed Marwat, Secretary of the Agriculture Department of Khyber Pakhtunkhwa.
The Gomal Zam Dam is a collaborative project between the governments of the United States and Pakistan, which has delivered remarkable results. Operating within the framework of the U.S.-Pakistan "Green Alliance," the two countries are working together to advance water management, clean energy, and climate-smart agriculture initiatives.
Also Read: Charsadda: Police Brutality in BISP Collection Caught on Video
This particular project has effectively doubled agricultural production in the region by opening up an additional 191,000 acres of land for local farmers. Moreover, it has successfully mitigated potential flood damage for over 30,000 households, significantly increased Pakistan's national water storage capacity, and provided electricity to 20,000 homes.
"We take great pride in our collaboration with the Government of Pakistan on the Gomal Zam Multi-purpose Project, which includes the dam, irrigation infrastructure, and direct support to the surrounding communities," stated Ambassador Blome.
As the third-largest water storage facility in Pakistan, following the U.S.-funded Tarbela and Mangla Dams, the Gomal Zam Dam holds strategic significance in Pakistan's climate change management strategy and overall food security. With an additional generation of 17 megawatts of hydropower, the dam serves as a reliable and clean energy source, empowering farmers to improve their socioeconomic conditions.
The United States Agency for International Development (USAID) has invested $130 million in the dam, irrigation infrastructure, and agriculture development components. The Government of Pakistan and the provincial government of Khyber Pakhtunkhwa have equally contributed to the project's overall cost.
Hits: 64