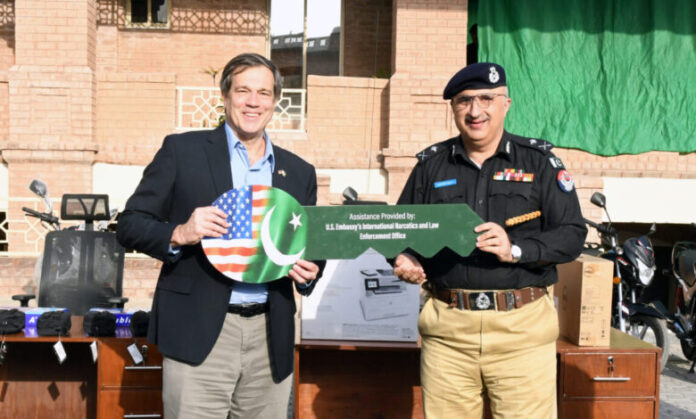 US Deputy Chief of Mission (DCM) in Pakistan, Andrew Schofer, embarked on a significant visit to Peshawar from September 25 to 26, reinforcing the United States' dedication to border security and reiterating support for Pakistan's endeavors in curbing cross-border infiltration and combating militancy in Khyber Pakhtunkhwa (KP).
During his visit, DCM Schofer held a productive meeting with the Inspector General of Frontier Corps at the historic Fort Balahisar. During this encounter, he announced a project worth Rs 250,000 aimed at enhancing the operational efficiency of the Frontier Corps during nighttime operations.
In another crucial engagement, Schofer met with IG Police Akhtar Hayat and presented safety and security equipment valued at three and a half lakh dollars. These devices are anticipated to bolster the police force's security measures and operational effectiveness, particularly during intensive counter-terrorism operations.
Also Read: No Research Funds Spent in Several KP Universities Over Past Three Years
Schofer participated in a round table conference that brought together youth, women, minority representatives, and beneficiaries of a US-supported program worth $470,000. The initiative is focused on improving the lives and employment prospects of residents in the tribal districts of KP. In line with the region's needs, DCM Schofer distributed sewing machines and solar-powered fans to the local population.
The visit also provided an opportunity for Schofer to engage with Khyber Pakhtunkhwa's business community, entrepreneurs, representatives of the Economic Zone Development and Management Company, and officials from the Khyber Pakhtunkhwa Information Technology Board. The discussions revolved around strengthening trade and economic ties between Pakistan and the United States, as well as exploring potential opportunities for collaboration.
Furthermore, DCM paid a brief visit to the National Incubation Center, where he gained insights into various entrepreneurial projects and business concepts.
In a testament to the United States' commitment to religious freedom and mutual tolerance, Schofer visited the historic St. John's Cathedral, a revered place of worship. During his visit, he engaged in dialogue with Bishop Humphrey Sarfaraz Peters, emphasizing the promotion of interfaith harmony and dialogue among diverse religious communities in Pakistan.