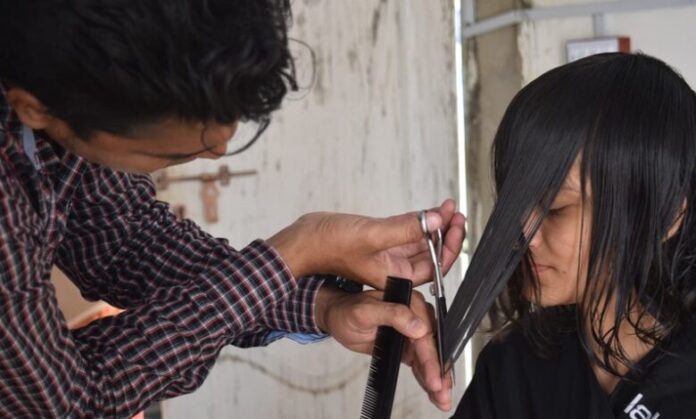 Maria Saleem
Human hair is not only an important part of a person's personality but long, thick and beautiful hair is also considered as a symbol of beauty, which is why long and thick locks remain the focus of poetry to date.
Hair is valuable if it is on the head but one should not be depressed seeing broken and cut hair because now you can earn good money by selling it.
You may also have seen vendors going door to door and buying hair from women for good money. But the thing to think about here is what is the benefit of buying it?
Don't you know? Let me tell you!
You might have heard about different businesses but you will be surprised to know that one of the most expensive businesses in the world is the business of buying and selling hair.
According to a study report, about 35 million men and 21 million women are suffering from baldness or alopecia, and there are only two options for people suffering from this problem; one is a hair transplant and the other is artificial hair i.e. a wig.
Now, since hair transplant is an expensive procedure that not everyone can afford, middle-class people try to hide their deprivation by buying wigs.
How is a wig made?
Wigs can be made from both plastic fiber and human hair, but wigs made from natural hair are relatively more expensive than wigs made from synthetic hair because they are durable and easy to wash and care for like normal hair, and can be adapted to any style.
To make wigs from human hair, hair is collected from houses; broken during combing or hair cutting in the beauty parlour or salon. Since the length of men's hair is relatively short, women's hair is chosen exclusively.
According to the local people, the hair collected from the houses is sold to the dealers at a double price; local dealers buy the hair at Rs 7,000 to 10,000 per kg and sell it at high prices after cleaning it.
And eventually, hair is exported to China where they use it for wig-making, but then the price of the same hair is 20 to 25 thousand rupees per kg.
A bunch of suitable sizes is taken from the washed dry hair and it is passed through the hackle again and again. This process is called hackling processing. While the hackle is a tool that is created after hammering many nails into a wooden board, the wig master goes through the hair repeatedly with a pointed comb to untangle the tangled hair.
After combing the hair, it is made into separate bunches, tied with a rubber band, and sent to the wig master who places the hair on a fine net and spins it according to the hairline. The process is called ventilating.
After that, the process of packaging the wigs starts and after good packaging, they are brought to the market where a wig is sold for thousands of rupees.
Nowadays, the hair recycling business is gaining momentum in Pakistan as the demand for wigs is increasing exponentially across the world.
According to the 2021 Global Human Hair Export Report, Pakistan is the third largest exporter of women's hair in the world after India and Hong Kong.
On the other hand, people are also becoming more aware of it, that is the reason why now, instead of throwing the broken and fallout hair in the garbage, women collect it at home and then wait for the collector so that they can sell it at a good price.
Hits: 6