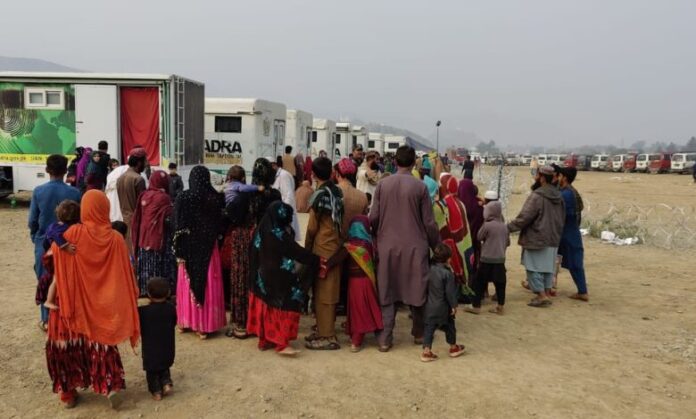 Mehrab Afridi
The repatriation of Afghan refugees from various parts of Pakistan remains underway, with 490 families returning to Afghanistan via Torkham on November 17. Official sources report that 2,398 individuals arrived at Torkham from different cities before heading back to Afghanistan.
Among the returnees, 157 Afghan families registered their data through NADRA mobile vans, while 333 families used special permits for their journey. Additionally, 304 Afghan nationals were deported at Khyber's Landi Kotal entry holding point, with the process extending into the late hours.
Also Read: Business Community in North Waziristan Urges Swift Compensation for Miranshah Bazar
The Interior Department of Khyber Pakhtunkhwa reveals that a total of 218,482 people have crossed Torkham thus far, including 3,263 foreign refugees repatriated from Angoor Adda and 419 from the Kharlachi border.
Since September 17, a cumulative total of 222,164 individuals have returned to Afghanistan, with 3,263 illegally residing Afghans deported. It is noteworthy that the deadline for illegally staying foreigners to leave Pakistan expired on November 1, leading to registered Afghan citizens being allowed to enter Afghanistan through the Torkham border after due registration at Khyber's Landi Kotal entry point.