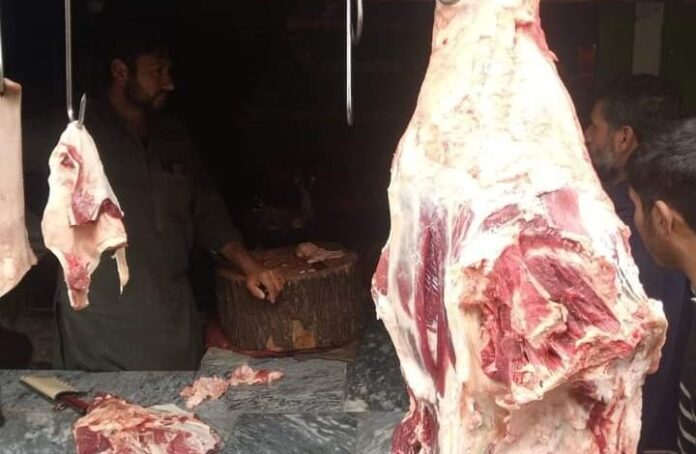 Nasar Zada
A butcher, along with his friend, was arrested for selling dead animal meat in the Shringal area of the Upper Dir district of Khyber Pakhtunkhwa.
Hafeezullah, assistant commissioner Shringal, on receiving a tip-off that a butcher in Shringal was selling dead buffalo meat to people raided the accused shop along with the police, where meat was recovered from the butcher without an official stamp.
He said, during the operation, a large number of buyers were present outside the shop, while during the investigation it was confirmed that it was the meat of a dead animal.
Also Read: Calcium deficiency killing cows in Dir Upper
AC Shringal said Samiullah, the butcher, was arrested and detained in custody while an FIR was registered against him under various sections.
Afzal Khan, who bought meat from the said butcher, said that he used to buy meat during Ramadan and even today he bought five kilos of meat from this butcher, but now after this process, he no longer wants to buy meat.
On the other hand, Dr. Irshad told TNN that the meat of a dead animal is harmful to human health, eating it can cause gastrointestinal and stomach diseases, while the proteins present in 'halal' (legitimate or permissible) meat are not found in the meat of a dead animal.
Assistant Commissioner Shringal Hafeezullah said that they are inspecting vegetable vendors and butcher shops on a daily basis, and if any butcher is found to have meat without an official seal, action will be taken against him.
He said that the demand for meat remains high in the month of Ramadan, that's why butchers don't care about 'haram' (prohibited) and 'halal' while earning their livelihoods.
Hits: 7