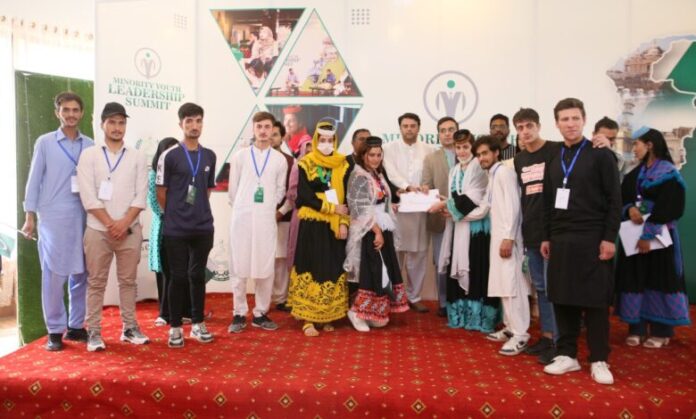 Abbottabad recently hosted a three-day Minority Youth Leadership Summit, organized by the Khyber Pakhtunkhwa Department of Minority Affairs. This event saw the active participation of young students hailing from the minority communities of the Malakand and Hazara Divisions.
During a ceremony held at a local hall, attendees observed a moment of silence to express solidarity with the victims of the Jaranwala incident. Father Nasir William graced the event as the chief guest.
The summit featured a series of sessions, training programs, and lectures delivered by distinguished individuals from various walks of life. Eminent trainers conducted sessions focusing on leadership, leadership qualities, contemporary issues, their solutions, and engaging activities aimed at nurturing leadership skills among minority youth.
Also Read: Double Homicide and Unidentified Woman's Body Found in Peshawar
A special session on emotional intelligence was also held during the event. Participants engaged in discussions regarding the role and significance of the minority community, particularly its youth, in contributing to the country's development.
Mian Asjad, the Monitoring Officer of the Minority Affairs Department, strongly condemned the Jaranwala incident. He emphasized that Islam outlines a robust rights and protection system for minorities, promoting fraternal relations. Pakistan's constitution also guarantees the safeguarding of minority rights.
Sahibzada Haider Jan, an officer from the Planning Department, emphasized that the provincial government is taking substantial measures to ensure the development and prosperity of minorities. Comprehensive planning has been undertaken, and significant funding has been allocated for their welfare.
Jan highlighted the special attention given to minority youth in the annual development program, which includes educational scholarships, the Skills Development Scheme, Small Business Grants, and Youth Adventure Trips.
Moreover, the construction and renovation of places of worship for minority communities are ongoing, along with the development of residential colonies. Projects related to land rules and the construction of boundary walls for cemeteries and crematoriums are also in progress.
Jan pointed out that official celebrations of religious festivals within the minority community are underway, alongside various initiatives promoting inter-faith harmony.
These measures collectively aim to alleviate the challenges faced by the minority community, provide enhanced training opportunities for its youth, and create new avenues for employment.
Hits: 11