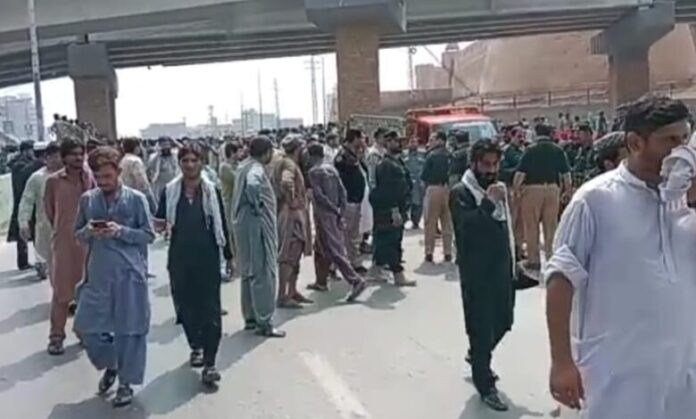 Aftab Mohmand
Relatives of Noor Nabi Shah, who died under suspicious circumstances while in the custody of Michani Gate police station in Peshawar, have staged a protest at Suri Pul.
They claim that Noor Nabi Shah's death resulted from the violence he faced while in custody, evident from the marks of torture on his body. The family members asserted that he was not even formally arrested but was apprehended from his Gulozai locality and subjected to brutal treatment.
Voicing their demands, the bereaved family called for a thorough investigation into the incident and demanded stringent action against the Michani Gate police station SHO. The protest saw the participation of children, widows, and other female relatives of the deceased.
Also Read: Steep Fuel Price Hike Sparks Public Outcry
The demonstration eventually concluded after negotiations with Peshawar police, who assured the family that Noor Nabi Shah's brother, currently in custody, would be allowed to attend the funeral.
The Michani Gate Police stated that Noor Nabi Shah was a suspect in a murder case (302 IPC). On August 3, Sabir Shah filed a report accusing Noor Nabi Shah, Abid Shah, and Sarwar Shah of killing his son Haroon Shah in Pajagi.
Subsequently, Noor Nabi Shah was arrested from Faqir Kaly after days of being on the run. While in custody at Michani Gate police station, he fell ill and was taken to Lady Reading Hospital, where he passed away.
In response to the incident, CCPO Peshawar Syed Ashfaq Anwar took immediate action, suspending the SHO of Michani Gate police station and initiating an inquiry. The CCPO emphasized that no one would be allowed to take the law into their own hands.
SP Work Division Muhammad Arshad Khan confirmed the launch of a formal inquiry and revealed that Noor Nabi Shah's body had been sent to Khyber Medical College for a post-mortem examination.
The findings of the autopsy will guide subsequent actions in accordance with the established protocols. Additionally, a request for an inquiry will be submitted to the District Magistrate.
Hits: 18