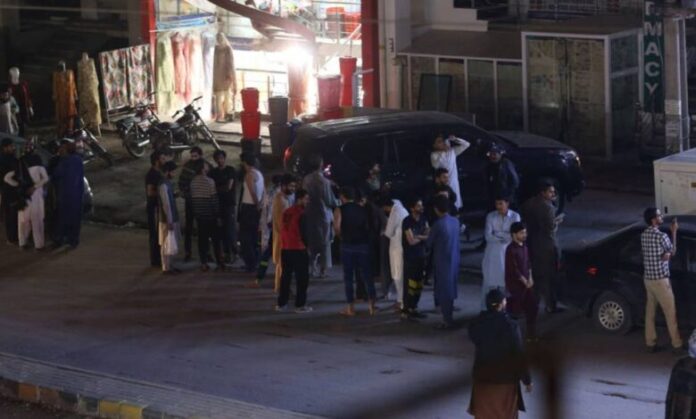 At least 9 people died, including two women and as many children and over 100 people were injured last night when a severe earthquake jolted Pakistan and Afghanistan.
Earlier, the Khyber Pakhtunkhwa Disaster Management Authority, in its initial report, confirmed the death of 2 people in KP province.
The meteorological department (PMD) said that the depth of the earthquake was 180 kilometers and its intensity was recorded at 6.8.
The earthquake struck at 9:47 PM Pakistan time. The epicenter of the earthquake was in the Hindu Kush region of Afghanistan, PMD reported.
Also Read: Afghan earthquake has killed more than 1000 and killed over 1500
Earthquake tremors were also felt in Turkmenistan, India, Kazakhstan, Tajikistan, Uzbekistan, China, Afghanistan, and Kyrgyzstan, reportedly killing three people in Afghanistan as well.
Strong tremors of the earthquake were also felt in Peshawar, Kohat, Swabi, Lahore, Quetta, Rawalpindi, and many other cities of the country.
Due to the severe earthquake, there have been incidents of wall collapse and stampedes in different cities.
Sources said the wall of a house collapsed due to the earthquake in Dheri area of Lower Dir, resulting in a woman's death.
One person also died due to a stampede in Lower Dir while 43 people were injured in various accidents, said the sources.
Officials of the Rescue 1122 said a woman died of a heart attack during the earthquake in Shankyari area of Mansehra.
A 13-year-old girl died after a house wall collapsed in Madyan area of Swat. One person died and two were injured when the roof of a house collapsed in Shamuzai area of Swat, the police reported.
Police officials said 50 people injured in the earthquake were brought to Saidu Sharif Hospital in Swat, while in Lower Dir, 7 people fell down and got injured in the stampede during the earthquake and were shifted to Timergarah Hospital.
5 people including a woman were injured when the roof of a house collapsed due to the earthquake in Sheikh Jana area of Swabi city of Khyber Pakhtunkhwa.
Director General Rescue 1122 Dr. Khateer Ahmad said that there are reports of roofs and walls collapsing from 5 districts of Khyber Pakhtunkhwa due to the earthquake, emergency calls have been received from Swabi, Chitral, Buner, Mardan, and Lower Dir.
Meanwhile, the Karakoram highway has been closed due to landslides triggered by the earthquake in Kohistan, while the Bahrain road has been blocked due to landslides at Kirkundi bridge near Kalam.
A multi-storied residential building in Islamabad's Sector E-11 was also affected by the earthquake. Residents came out of the flats. The district administration will soon inspect the buildings affected by the earthquake.
Hits: 7