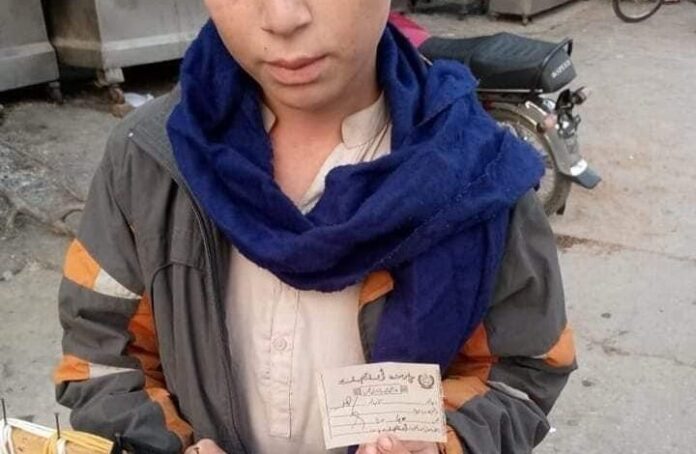 Rifaqatullah Razarwal
A viral image on social media has ignited public fury as a nine-year-old boy from Charsadda is photographed holding a mask, supposedly waiting for a customer while clutching a Tehsil Municipal Administration slip indicating a recorded tax of Rs. 40.
The Tehsil Municipal Administration (TMA) now faces severe criticism, with accusations of imposing an illicit 'gang tax' on a child street vendor.
Understanding Street Vending Fee
Under the TMA Act, street vending fees are defined for individuals without established shops, selling goods brought from different places while sitting on the ground in the market. The public argues that taxing a child selling masks, a non-taxable item under the Market Act is an unlawful act.
Post the image's circulation, TMA officials admitted the illegality but shifted the blame onto the contractor. The public, however, holds both the contractor and TMA officials accountable.
Also Read: US Ambassador Blome Announces $8.25 Million Support Package for Balochistan Police
Journalist Syed Shah Raza Shah revealed the child's background, emphasizing the contractor's daily 'gang tax' collection in the name of street vending fees.
Apathy in Society
Expressing dismay at society's apathy, Shah Raza Shah condemned the extortion of a child for a meager sum. He questioned the ethics of exploiting a child's labor for paltry gains, urging reflection on whether such actions align with the values of a civilized society.
Investigation and Consequences
TMA's Additional Administrator, Gul Wali Khan, assured an investigation into the incident, acknowledging the illegality of collecting tax in the name of street vending. A show cause notice will be issued to the contractor, with contract cancellation as a potential consequence for unsatisfactory responses.
Tehsil Mayor Mufti Abdul Rauf Shakir asserted that TMA contracts empower contractors to collect taxes independently. The mayor distanced himself from the issue, stating that the contractor's actions, whether collecting Rs. 10 or Rs. 10,000, do not impact TMA's profit or loss.
Mian Rahim Badshah, General Secretary of the Traders Federation, condemned the taxation of a child laborer and rejected Mayor Mufti Abdul Rauf's attempt to absolve himself. He urged authorities to prevent such cruelty against street laborers.
Mayor's Response
Mayor Mufti Abdul Rauf Shakir refuted allegations of negligence for political purposes and committed to summoning the contractor for an explanation. He claimed attempts to tarnish his image and hinted at possible defamation claims against those spreading negative propaganda.
Mian Rahim Bacha of the Traders Federation called on the district administration to support traders and laborers, fostering a positive environment for economic growth and community satisfaction.