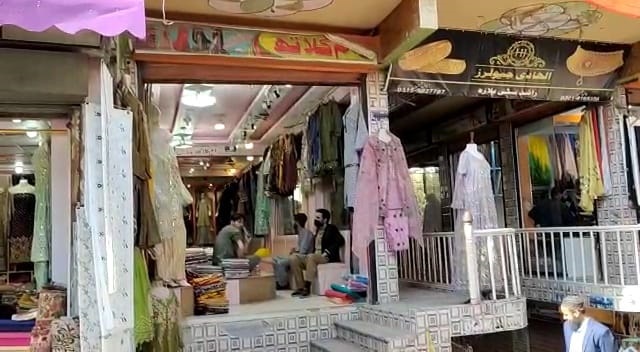 Nasar Zada
Jackie Kumar, a Hindu businessman from Battagram district in Khyber Pakhtunkhwa, has generously offered a 50% discount on clothes for the upcoming Eid-ul-Fitr, a Muslim holy festival. Kumar, the owner of Ramnath Cloth House, hopes that this kind gesture will allow citizens who are struggling with inflation to purchase their desired clothes at an affordable price.
Kumar explained that it was traditional for elders to offer food items to Muslims at discounted rates during Ramadan. As the only cloth merchant in the area, he has taken the responsibility of continuing this tradition by halving the price of all kinds of clothes. Kumar expressed his hope that other Hindu businessmen throughout Pakistan will follow his lead by announcing similar discounts for Muslims on the occasion of Eid.
Also Read: Ramadan & Marital Obligations: Navigating Fasting, Prayer, and Intimacy
Although Kumar acknowledged that his shop may not earn much profit during the Eid festival, he is focused on ensuring that as many people as possible can take advantage of the discount, which will be available until the end of this holy month.
Shoppers from far and wide have already visited the shop, with one grateful customer expressing her appreciation by saying, "Because of your shop, our whole family will wear new clothes this time on Eid."
Mohammad Tayyab from Tor Ghar, who traveled to Battagram to purchase clothes at a discount for himself and his family, was thankful for the opportunity provided by Kumar's shop. Another customer, Muhammad Bilal, was so determined to take advantage of the discount that he was willing to wait for an hour to make his purchase.
It's worth noting that Jackie Kumar has been involved in the cloth business in Battagram for the last 20 years, and his family members are also involved in various businesses. People from Torghar, Kohistan, and Shangla frequently visit his shop for their needs.
Hits: 9