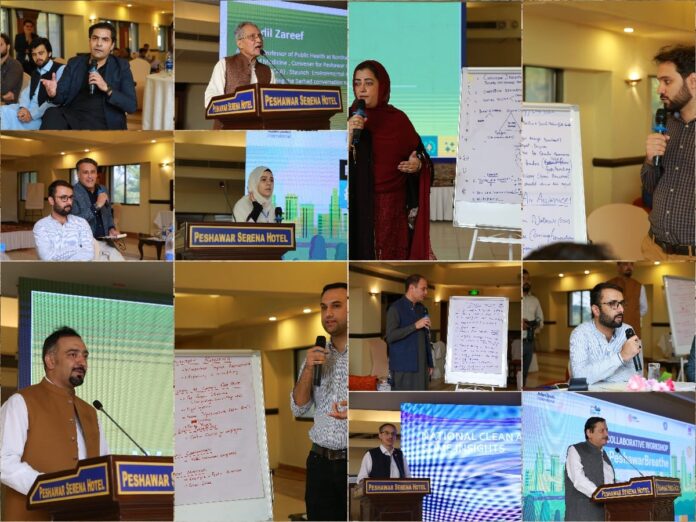 Seema Saba
The collaborative workshop, "#Let Peshawar Breathe," brought together esteemed clients such as Adam Smith International, Peshawar Clean Air Alliance, Seed Khushhal Khyber Pakhtunkhwa, and Ukaid under one roof at Serena Peshawar. This unique gathering showcased an influential session where experts from diverse fields convened to brainstorm and share insights on combatting the pressing pollution issues in our beloved city.
The continuous decline in air quality has led to a surge in pollution-related diseases, posing a significant threat to public health. As winter ushers in November, the onset of smog becomes particularly alarming, wreaking havoc on countless lives. The workshop addressed this urgent matter, emphasizing the need for immediate measures to combat the rising pollution levels.
Also Read: Rising Influence: Women Journalists Thrive in Digital Media, Breaking Traditions
Lahore, grappling with a menacing fusion of smoke and fog known as smog, has earned the dubious distinction of being the most polluted city globally. Peshawar, too, has witnessed a drastic deterioration in air quality, securing its position as the 5th most polluted city worldwide. This reality highlights the urgent need for collaborative efforts to address and rectify the dire situation.
The workshop was remarkable, uniting distinguished individuals from various professions, representing the cream of society. Professors, journalists, doctors, lawyers, and experts in nutrition and transportation gathered to share their valuable views and engage in fruitful discussions. As a representative of the media for TNN, it was an honor to be part of this insightful dialogue.
Expressing gratitude for the opportunity to represent TNN as a blogger, I acknowledge the significance of fostering positive change. It is essential to take urgent and immediate measures to rectify the dire situation, restore air purity, and safeguard public health. Together, we can bring about positive change and improve the air quality of the City of Flowers.