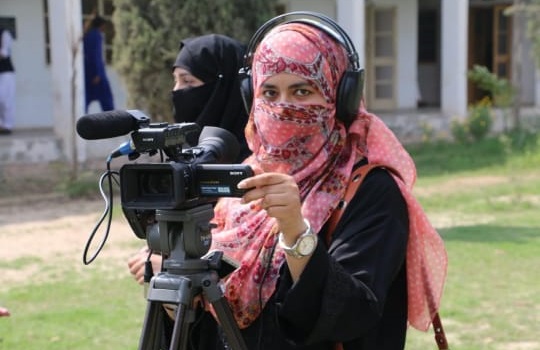 Kamran Ali Shah
Sabiha Sheikh, hailing from Dera Ismail Khan in Khyber Pakhtunkhwa, holds a master's degree in journalism from Gomal University. Operating a Facebook page named 'Burqa Journalist,' Sabiha highlights the challenges faced by journalists in mainstream media, leading many, especially women, to embrace digital platforms.
Sabiha emphasizes the difficulty of securing opportunities in mainstream media, where financial insecurity, job instability, and the prevalence of 24-hour duty schedules hinder journalists. In contrast, freelancing in digital media offers flexibility, enabling the focus on regional issues with ample time and space. Digital media, particularly social platforms, provides an ideal space for independent work aligned with journalistic principles.
Regarding news verification and publication standards, Sabiha ensures adherence to journalistic principles in digital media. Each news item undergoes thorough verification from trusted sources, especially when related to organizations, ensuring accuracy before publication.
Also Read: KP Public Service Commission Exam Hit by Cheating Scandal, Demands Overhaul
Sabiha reflects on the initial challenges faced by fellow journalists in print and electronic media. However, as her journalistic credentials became evident, senior journalists extended support and acknowledgment. Government officials, politicians, and social workers now cooperate with Sabiha on news confirmation and other journalistic endeavors.
While acknowledging the potential pitfalls of social or digital media, Sabiha emphasizes the need for caution. Having received specialized training, she maintains a strict adherence to journalistic laws and principles, ensuring responsible reporting.
Farzana Ali, a bureau chief at a Peshawar-based private TV channel, attributes the preference for digital media among the new generation, particularly women, to societal norms, working hours, and salary concerns. Ali emphasizes the flexibility and financial rewards offered by digital media compared to mainstream outlets.
Razia Mehsud, a digital media activist from Waziristan, sheds light on the challenges faced by women journalists in mainstream media, such as financial insecurity, limited freedom, and the inability to work from home. Razia highlights the benefits of digital media, emphasizing its freedom, flexibility, and ability to maintain regional traditions.
Despite the advantages of digital media, Razia acknowledges the dangers faced by women journalists, especially in areas like Waziristan. She has received death threats for her journalistic duties but credits the support of her family, including her husband, for sustaining her morale.
Professor Faizullah Jan from the University of Peshawar contends that journalism is increasingly linked to social and digital media. He emphasizes the interactive nature of these platforms, allowing journalists to build their profiles and connect directly with the public.
Nasir Hussain, president of the Khyber Union of Journalists, disputes the perception that women prefer social or digital media due to fewer opportunities in mainstream media. He argues that women in digital media are often used for superficial content, with serious journalism receiving less attention. However, he acknowledges that capable women can excel in digital media, working from home without facing jealousy.
The absence of data on the number of women journalists in digital media complicates the assessment of their role. While the government contemplates registering social media influencers, there is currently no information on their registration or applications received.
In a 2017 report by the Freedom Network, less than 5% of the 20,000 journalists across Pakistan were women. Interviews with women from Khyber Pakhtunkhwa reveal that some have gone abroad or shifted to other fields, while others are exploring opportunities in digital media.
Note: This story is part of a Pakistan Press Foundation Fellowship.