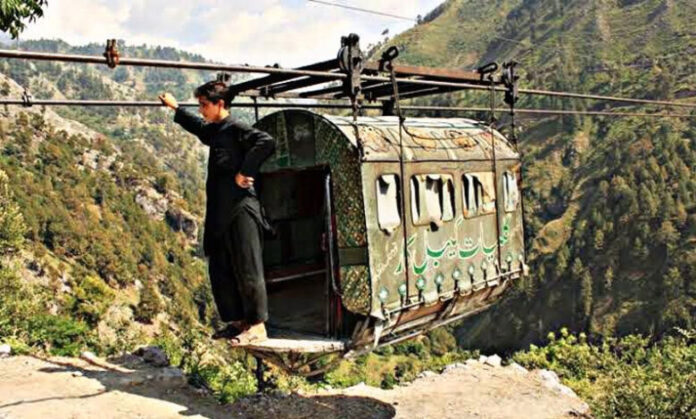 Muhammad Faheem
A chairlift carrying schoolchildren met with an accident yesterday at 7:30 am in Tehsil Allai of Battagram, a remote area in Khyber Pakhtunkhwa. During the accident, two out of the three ropes holding the chairlift broke. This incident has raised several questions, the answers to which are crucial for preventing such incidents in the future.
To rescue the individuals trapped in the hanging chairlift for 15 hours, a local method was employed in Battagram. After dusk, two teams of local residents from Shangla initiated the operation and successfully rescued all the children trapped therein.
According to local sources, instances of chairlift rope breakage have occurred in the past as well. In such situations, experts are summoned from Shangla and nearby districts to assist in freeing those trapped.
Also Read: Monsoon Alert: Khyber Pakhtunkhwa Gears Up for Heavy Rainfall
The chairlift is secured using four ropes, with three directly connected to the chairlift and one additional rope unused. In the recent chairlift incident in Allai Battagram, two of the three ropes broke, leaving the chairlift suspended by the remaining rope. In response, local individuals utilized the unused rope to rescue those trapped.
Eyewitness Hussain Ahmad stated that initially, district administration, followed by a rescue team from the Governor's helicopter, and later a team from the Pakistan Army, prohibited local residents from taking risks and took over the operation themselves. After three unsuccessful attempts prior to dusk, Pakistan Army soldiers managed to rescue two children. However, as darkness fell, the helicopter was withdrawn.
Hussain Ahmed further shared that subsequently, youths from Shangla took on the traditional operation. They employed a "doli," a small carriage-like cable car, attached to the fourth rope connected to the chairlift. Using this method, they successfully extracted each child one by one. After a few hours, all individuals were safely rescued.
On a different note, the chairlift accident in Battagram's Allai tehsil has brought forth significant concerns. Many of the chairlifts in the district are outdated and lack proper inspection mechanisms.
Local journalist Ataullah Naseem highlighted that due to the absence of adequate roads in Torghar, Kohistan, Kolai Palas, and other highland regions, including Battagram, chairlifts are frequently used for travel between mountains. However, incidents of chairlift failures leading to accidents are common and have resulted in several casualties.
Yesterday's incident involving the chairlift breakdown in Tehsil Allai, Battagram received extensive media coverage across the country. This has prompted questions regarding the quality and safety of these chairlifts.
According to Attaullah Naseem, there are more than 40 chairlifts in Torghar, but the ropes used for these chairlifts are quite old. These ropes are initially used in Nathia Gali, Ayubia, and Murree, and once their term is completed, they are reused in areas like Torghar, Battagram, Kohistan, and Kolai Palas, where regulatory oversight is less strict. This practice poses a significant risk to the lives of countless citizens.
The installation of chairlifts is authorized by the Deputy Commissioner, who is also responsible for their periodic inspection. However, local sources suggest that the district administration sporadically checks the condition of these chairlifts.
Hits: 32