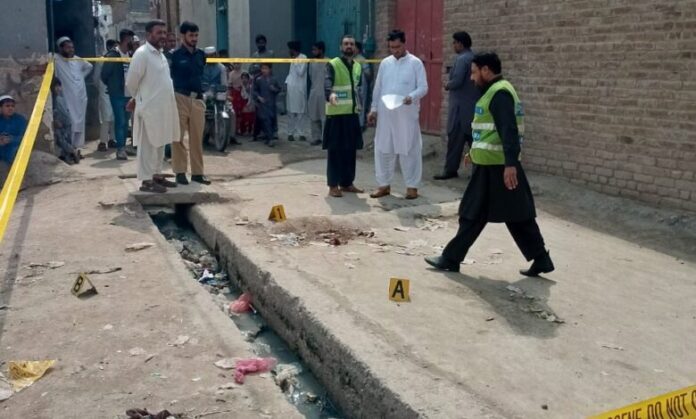 Peshawar: A Christian man was gunned down by unknown assailants here on Saturday, in what the police officials say is the second target killing of a minority person in the city during the last 24 hours.
However, this is the third attack targeting religious minorities this week, in Pakistan. A Sikh shopkeeper was gunned down in Peshawar yesterday and a Hindu doctor was killed in Karachi on 30 March.
Sartaj, head of the Sufaid Dheri police station, said Kashif Masih was an employee in Town 3 office and the assailants targeted him near Academy Town when he was on his way home.
The eyewitnesses said the assailant attacking Kashif Masih was wearing a helmet and fled the scene after killing the innocent citizen.
After the incident, Police took the body into custody and shifted it to the hospital for post-mortem.
Ashraf Masih, the uncle of the victim strongly condemned the incident and said they had no enmity with anyone, while Kashif was not a quarrelsome boy, we do not know why and how he was killed. He said that the victim has young children while his father is also seriously ill, "We demand justice from the government and the police, we want justice at any cost."
This was the second incident of killing a minority person in Peshawar in the last 24 hours. Yesterday unidentified motorcyclists shot and killed Dayal Singh inside his shop in DIr Colony.
Lehaz Ali, a senior journalist from Peshawar, said the prospect of terrorism cannot be ignored in these incidents as previously there have been explosions in churches and kidnappings of Sikhs in the city.
He said, in most cases, the minority communities have their own personal problems. He said that earlier there was such an incident for which ISIS accepted the responsibility, however, later the police found it was a personal matter of the victim, and such incidents have been happening for the last ten to fifteen years.
In January last year, unknown assailants targeted the religious leaders of the Christian community in Peshawar, as a result of which Father Siraj William was killed while Pastor Patrick Naeem was injured.
Hits: 55