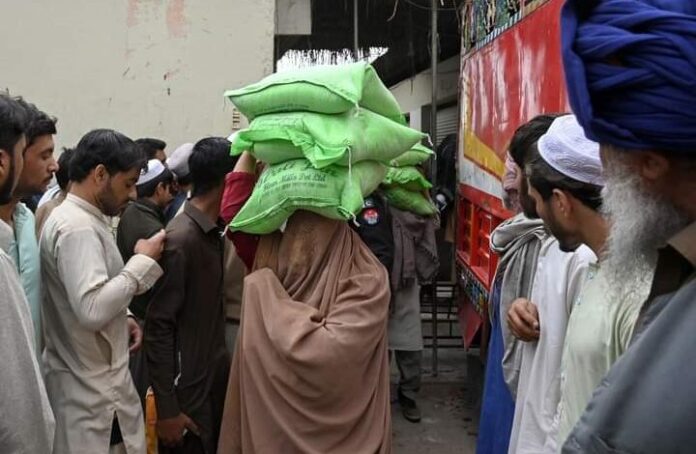 Caretaker Chief Minister Khyber Pakhtunkhwa Mohammad Azam Khan, taking notice of the complaints of collecting money from the beneficiaries by the dealers in the distribution of free flour, has directed the special branch to keep an eye on the dealers.
For the past several days, there are reports, from across the province, that some dealers are charging Rs 50 to 200 for free flour in the name of transport charges. Similarly, some people are describing the quality of flour as poor. While there have been dozens of riots during the distribution of flour.
In light of these complaints, an important meeting was held under the chairmanship of Chief Minister Muhammad Azam Khan today, wherein the participants were told that complaints have been received by the Chief Minister that some dealers are not providing free flour to the beneficiaries, and they are receiving money in the name of transport charges.
On this occasion, Azam Khan ordered that the special branch should immediately submit the report of those who received money from the beneficiaries to the concerned authorities. FIRs should be registered against the dealers who collect money from the beneficiaries and they should be arrested immediately. Such elements should be punished severely, he directed.
Azam Khan directed that the stipulated quality of free flour under the Ramadan package should be ensured in all respects.
For this purpose, the inspectors of the food department keep a close watch on the mills. Legal action should be taken against mill owners who supply substandard flour, the CM ordered.
The Chief Minister told the participants of the meeting that necessary steps should also be taken to run the process of distribution of free flour in an orderly manner, and adverse events during the distribution of flour should be effectively remedied.
Besides, Azam Khan directed that an inquiry be made into the incident that took place in the Hayatabad Sports Complex in the past few days. A report on the damage caused to the sports complex should also be submitted.
It's pertinent to mention here that there was a commotion during the distribution of free flour in the Hayatabad Sports Complex in the last few days due to which the sports complex suffered a loss of crores of rupees.
Khyber Pakhtunkhwa government has announced to provide 30 kg of free flour to 5.7 million deserving families of the province during Ramadan, for which more than 7 thousand distribution points have been established.
Flour dealers, however, said the government should have informed the public before announcing this package because most of the citizens do not even know whether they are eligible for this package or not.
According to the spokesperson of the Food Department, Khan Ghalib, around five million bags of 10 kg flour have been distributed among more than 1.7 million families.
Hits: 6