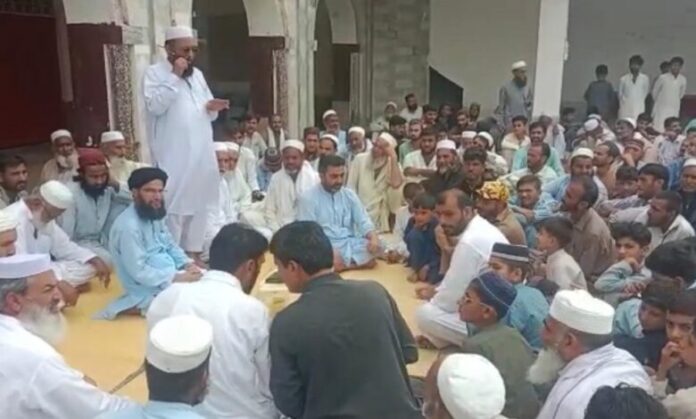 Syed Nadeem Mashwani
In the Khandar area of Nowshera, a strong movement against drug abuse has taken shape as people, scholars, and local government representatives join hands to raise awareness and fight against this menace.
A large gathering was held at the local Jama Masjid where hundreds of villagers took an oath, placing their hands on the Holy Quran, to socially boycott drug dealers and support the local police in eradicating drugs.
Elected and former local government representatives, village leaders, youth, and scholars came together at the Jama Masjid to declare a Jihad against drug dealers at the village and union council levels. The aim is to create a drug-free society, eliminate drugs, and save lives from this epidemic.
Also Read: Peshawar: UNDP Empowers Communities with Climate Change Adaptation Training
The urgency for a Jihad against drugs was emphasized, highlighting the need for collective efforts to protect future generations from destruction. It was emphasized that every individual must play their part in this ongoing Jihad to rid society of the devastating impact of drug dealers, which is considered the biggest scourge in the country.
Addressing the Grand Jirga, Malik Asghar, Sartaj Khan, and Village Council Khandar Munsif Khan expressed their commitment to leave no stone unturned in successfully combating the use of dangerous drugs like ice (methamphetamine/meth).
They emphasized the crucial role the public can play by standing shoulder-to-shoulder with the police department in this war against drugs. Recognizing that the people, youth, and students are the invaluable assets of the nation, their active participation is seen as essential in building a prosperous and drug-free society.
Hits: 5