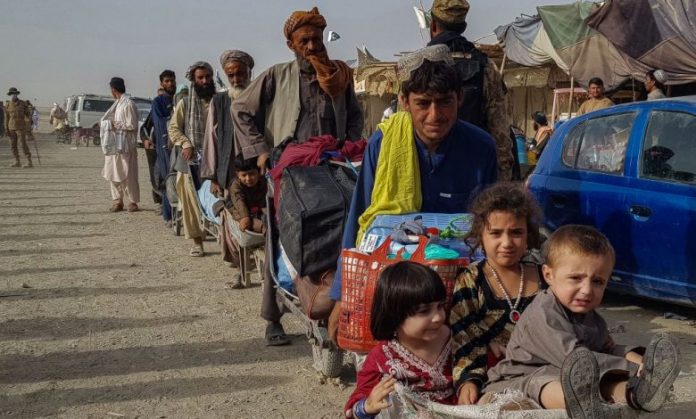 Aftab Mohmand
The Commissioner of Afghan Refugees in Khyber Pakhtunkhwa has reached out to the Inspector General of Police in the province regarding the issue of arrests and harassment of Afghan refugees who are registered in Pakistan.
In a formal letter addressed to the Inspector General of Police, Khyber Pakhtunkhwa, the Commissioner of Afghan Refugees has expressed concerns about complaints of inappropriate police conduct towards registered Afghan refugees in the region. These complaints detail cases of unnecessary arrests and harassment of Afghan nationals. The letter emphatically requests that law enforcement agencies refrain from arresting or harassing registered Afghan refugees.
Furthermore, the letter highlights that this matter has also been brought to the attention of the Ministry of Safran. Afghan refugees have been residing throughout the country, including Khyber Pakhtunkhwa, for the past 43 years. Instances of such complaints concerning Afghan refugees have surfaced previously.
Also Read: Nine Suspects Arrested for Suspicious MDCAT Test Registrations in Peshawar
The Afghan Commissionerate routinely scrutinizes the registration status of Afghan nationals. Recently, a formal proposal has been forwarded to the federal cabinet to extend the residence permits of Afghans further. This extension applies particularly to Afghans holding Afghan citizen cards and NADRA registration cards, ensuring their unhindered residency in Pakistan.
The letter underscores the importance of directing district-level law enforcement agencies to halt such actions against registered Afghan refugees. In this regard, senior police officials are urged to issue clear directives to regional police officers.
It is worth recalling that on September 14, 2023, the Provincial Apex Committee convened under the stewardship of Khyber Pakhtunkhwa's caretaker Chief Minister, Muhammad Azam Khan, and decided to collect data on Afghan nationals residing illegally in the province. Simultaneously, the Pakistani government has consistently voiced concerns about Afghan nationals engaging in activities such as terrorism, extortion, smuggling, and kidnapping for ransom on Pakistani soil.
Senior journalist of Khyber Pakhtunkhwa, Syed Fakhr Kakakhil, underscores that Pakistan initiated actions against those involved in dollar smuggling when the dollar's value surged in the country. During these operations, a significant number of Afghans were discovered to be participating in currency smuggling.
International entities had conveyed to Afghans that by relocating to Iran or Pakistan, they would have an easier path to obtaining visas for the United States, Europe, and other developed nations. Consequently, a substantial Afghan population migrated to Pakistan, including 200 Afghan journalists and their families.
Now, these individuals are applying for visas in Pakistan, but various embassies are not granting them visas, placing a burden on Pakistan. Following the conflict in Ukraine, millions of Ukrainian refugees sought refuge in Europe and other developed nations, supplanting the position that Afghan refugees had previously held.
In light of these circumstances, many Afghans cannot return to their home country due to various reasons, potentially leading to their involvement in criminal activities in Pakistan. Moreover, the UN and UNHCR have ceased providing them with aid.
Regarding the registered Afghan refugees in Pakistan, numbering around 250,000, it is important to note that if they are not engaged in criminal or subversive activities, their unwarranted arrest or harassment is unwarranted. However, if any Afghan resident is found to be participating in illegal activities in Pakistan, the Pakistani government will have to take action against them in accordance with the country's laws.
Hits: 5