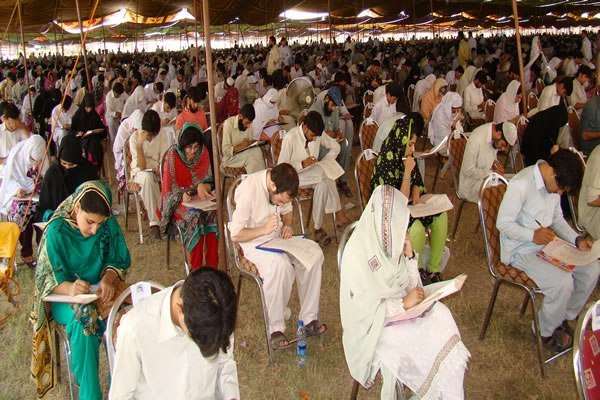 In Peshawar, authorities have apprehended nine individuals in connection with suspicious registrations for the MDCAT test. Sources reveal that all nine suspects had registered for the test using the same mobile phone number. Intriguingly, one of the registered candidates is a 46-year-old man.
ETEA had previously alerted all commissioners about potential test duplication schemes, emphasizing that rumors about test leaks were circulating on social media.
It is worth recalling that during the MDCAT test in Khyber Pakhtunkhwa, a scandal involving cheating and paper leaks through Bluetooth devices came to light.
Also Read: Daughter of Former Cricket Captain Shahid Afridi, Insha Afridi, Set to Marry Shaheen Shah Afridi
In response, the Khyber Pakhtunkhwa government established a joint investigation team tasked with probing and preventing incidents related to the use of Bluetooth devices and other technical tools during the MDCAT test. The team, led by the Additional Inspector General of Police Special Branch, is expected to submit its findings to the government within seven days.
According to the PMDC, this test was conducted in 31 cities across the country, as well as in Dubai and Saudi Arabia, with over 180,000 students participating. While complaints of test duplication arose in various Khyber Pakhtunkhwa districts, no such issues were reported at any centers outside the province. Given the localized nature of the test, the likelihood of a retest is minimal.
The Higher Education Department of Khyber Pakhtunkhwa reported that more than 200 students were caught attempting to cheat using Bluetooth and other spy devices in various parts of the province. FIRs have also been filed against the offenders.
Hits: 21