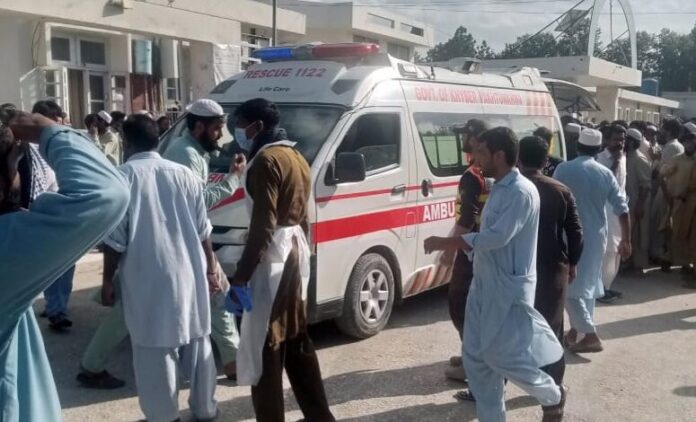 In a tragic incident, a powerful explosion struck a workers' convention organized by Jamiat Ulema-e-Islam (JUI) in the Bajaur area of Khyber Pakhtunkhwa, resulting in a devastating toll of 45 lives lost and leaving more than 70 others wounded.
The blast occurred near Dubai Mor in the Khar area, at the ongoing JUI workers' gathering at Sheendi Mor headquarters. The local emir, Maulana Ziaullah Jan, was among those who tragically lost their lives in the attack.
Rescue 1122 teams swiftly responded to the emergency, transporting the injured to the District Headquarters Hospital. Over 40 lifeless bodies were brought to the hospital, and the critically wounded are being airlifted to Peshawar for immediate medical attention via an army helicopter.
Also Read: Tragic Collision at Babusar Top Claims 8 Lives, Injures 4
The incident has been declared a suicide attack by the Inspector General (IG) of Police, Akhtar Hayat, as evidence is being gathered from the scene to ascertain the nature of the heinous act.
The Central Secretary General of Jamiat Ulema Islam, Senator Maulana Abdul Ghafoor Haidari, vehemently condemned the blast, asserting that the peaceful party has consistently pursued its political objectives through non-violent means.
Security forces have cordoned off the area and initiated a search operation after the tragedy. Bajaur has unfortunately been targeted by terrorists in recent times, with previous attacks inflicting loss of life and injuries.
The incident has sent shockwaves through the region, raising concerns over the security situation in Khyber Pakhtunkhwa, which has grappled with such acts of violence.
Investigators Suspect Suicide Attack in Bajaur Blast
The tragic blast at the JUI workers' convention in Bajaur has been preliminarily declared a suicide attack by Khyber Pakhtunkhwa's Inspector General of Police, Akhtar Hayat. Evidence collection is underway at the site of the explosion, and investigations are intensifying to determine the perpetrators behind this horrifying act.
The region has witnessed several terror incidents in recent days, highlighting the urgency to address security concerns and safeguard the lives of innocent civilians.
Hits: 15