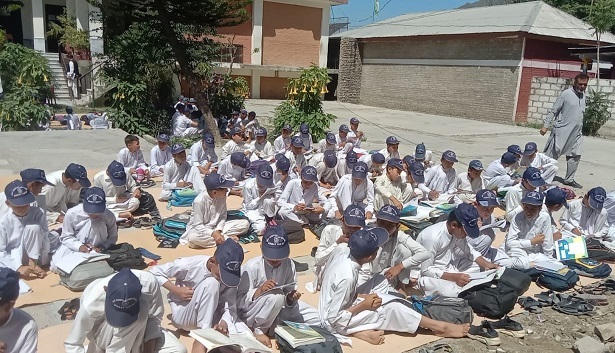 Hundreds of students in Government Higher Secondary School Rabat, Dir Lower, are facing the scorching heat as the reconstruction of their school remains stalled. The building, which was demolished earlier this year for reconstruction, has not seen any progress due to a lack of government funds allocated to the contractor. With over 1200 students affected, their educational future hangs in the balance.
Local residents express their concerns about the situation, revealing that despite a tender of 6.5 million rupees being issued for the school's reconstruction, it remains unclear why the funds have been halted. For the past three months, students have been studying under the open sky without a roof or basic facilities, causing great worry for their well-being and academic progress.
Also Read: May 9 Protests: Over 800 arrested in KP; Human Rights Watch expresses Concerns
They urge the authorities to promptly release the necessary funds for the school's construction or arrange an alternative location for the students until the rebuilding is completed.
The school administration has made numerous attempts to contact the education department and CNW officials, but their pleas have yet to receive any attention or action.
Hits: 2