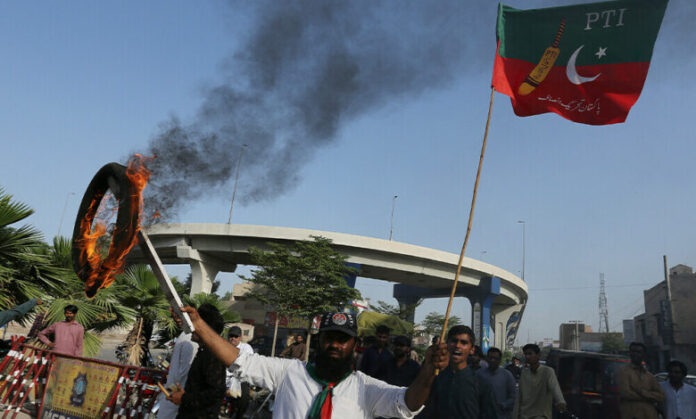 Peshawar:
Khyber Pakhtunkhwa Police has announced that over 800 individuals involved in the violent protests that took place in the province on May 9 and 10 have been arrested. Additionally, 18 FIRs of terrorism have been registered against the protesters.
The police department's report reveals that among the registered FIRs, five are related to terrorism in the Peshawar region, four in the Kohat region, and three in the Mardan region. Former provincial ministers and assembly members are among the accused individuals named in the FIRs.
According to the police, many of the provincial ministers and assembly members named in the FIRs have been on the run since May 9. The report further states that the police have apprehended 267 people in Peshawar, 216 in Mardan, and 114 in Kohat.
Also Read: Climate Change Takes a Toll on Wheat Production in KP
In contrast, Pakistan Tehreek-e-Insaf (PTI) Chairman Imran Khan has claimed that over 7,000 workers from his party have been arrested following the protest on May 9. However, according to the international human rights organization, Human Rights Watch, approximately 4,000 activists have been detained across Pakistan.
Human Rights Watch has expressed concern over the recent arrests of PTI activists and has demanded that the Pakistani authorities release those detained and respect the legal rights of all individuals supporting peaceful protests or opposition.
In a statement, Patricia Gusman, Associate Director for Asia at Human Rights Watch, emphasized the need for authorities to exercise restraint and uphold human rights and the rule of law.
On May 9, violent protests and arson occurred throughout the country in response to the arrest of Imran Khan in connection with a £190 million scam. Several individuals, including PTI leaders, have been detained by the police for their involvement in arson, damage to government and private properties, and attacks on military installations.
Meanwhile, Army Chief General Asim Munir has announced that legal action under the Army Act has been initiated against the planners, instigators, and perpetrators of the May 9 tragedy.
Hits: 10