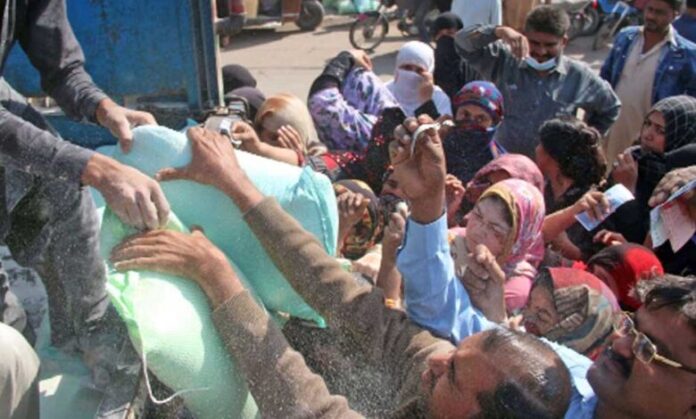 Three persons including a woman died while eight others were rendered unconscious in mayhem during the distribution of free flour in the Charsadda and Bannu districts of Khyber Pakhtunkhwa.
The police said, the provincial government was providing free flour to deserving families in the Bannu Sports Complex, but a man and a woman were killed due to the disorderly conduct of the people standing in the queues.
The police said that most of the people have become unconscious due to the stampede, while the dead and unconscious people were shifted to the district headquarters hospital in Bannu.
Also Read: Balochistan flood affectees facing flour crisis
On the other hand, women in Bannu blocked the Kohat road for traffic while protesting against not getting free flour.
Likewise, there was a stampede during the distribution of free flour in Charsadda where one person was killed by the mob while several people were injured.
The local people said, there was no official of the district administration in Sasta Bazar, that's why things went out of order. The people also held protests at different places against the disorder while demanding the distribution of flour be transparent.
Apart from this, Qari Abdul Bari and Taut Zeeshan, the shopkeepers who were receiving Rs 300 for free flour from deserving people in Upper Dir, were arrested by the local administration, and a case was registered against them.
The Khyber Pakhtunkhwa caretaker government has taken strict notice of irregularities in the distribution of flour in Charsadda and Bannu and has asked Commissioner Bannu, Peshawar, Secretary Food and Director Food for a detailed report of the incident.
Caretaker minister of information, Barrister Mian Feroze Jamal Kakakhel said strict action will be taken against negligent officers and officials. Feroze Jamal directed the Secretary and Director of Food in Khyber Pakhtunkhwa to submit a report on the distribution of free flour on a daily basis.
Yesterday, during the distribution of flour, there was a disorder in the Ghalanai Sports Stadium of Mohmand district, while the local people also blocked the Peshawar, Bajaur highway as a protest.
Similarly, complaints like overcrowding, disorder, and mismanagement were reported from some other places in the province.
The process of distribution of free flour by the provincial government started on March 20, The caretaker chief minister of Khyber Pakhtunkhwa Azam Khan also took notice of the irregularities in the distribution of free government flour in some places of the province yesterday.
The Chief Minister had directed the Food Department and all the district administrations to take necessary steps for the distribution of flour in an orderly manner.
The Chief Minister had directed that the distribution of flour should be made easy for the people throughout the province in the month of Ramadan, and it should be ensured in every way that the people do not face any problems in getting the flour.
Hits: 27