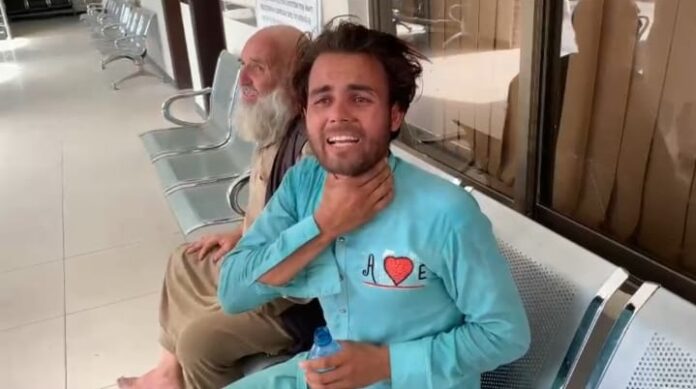 Syed Nadeem Mashwani
Nowshera: In a shocking incident, an elderly man and his son, who had come to court seeking the release of a 35-year-old Afghan youth, were subjected to torture and an alleged kidnapping attempt by armed individuals.
The victim's father, Janan, shared with TNN that his son, Jan Agha, was arrested by Nowshera Badrashi Chowki Police on the second day of Eid. Janan revealed that despite his daily visits to the checkpoint to inquire about his son, the police consistently made excuses and denied his request to see him.
Janan further alleged that the police officials eventually demanded a hefty bribe from him. Although they demanded Rs. 500,000, the family did not possess such a substantial amount of money. Janan managed to arrange two and a half lakhs by borrowing from others. He stated that Sub-Inspector Tayyab of Badrashi Chowki demanded the bribe, which he was willing to pay, but he did not anticipate the extent of abuse he would face.
Also Read: PHC Suspends 3 MPO, Orders Release of Arrested Accused
Describing himself as a poor man who earns a living by selling dry fruits in Pakistan, Janan insisted that his son was falsely accused of theft. He firmly believed that his son was involved in drug use, but not in theft. Janan recounted that when he went to collect his son today, he was informed that his son was not present, despite having met him only the previous day.
Mir Agha, the brother of Jan Agha, corroborated Janan's account. He revealed that Sub-Inspector Tayyab subjected him to severe verbal abuse and refused to release his brother. Initially, a bribe was demanded, but when Mir Agha explained that he couldn't afford such a large sum, the police claimed there was a complaint against his brother and insisted he would be presented in court. However, Mir Agha stressed that the abuse continued unabated.
According to Mir Agha, his brother sustained eleven fractures to his head and required over a hundred stitches. Mir Agha explained that he was compelled to go to court, hoping to bring his brother back with him, but was informed that his brother was not present.
The victim's family maintains that the 35-year-old Afghan youth, Jan Agha, remains in police custody despite their pleas for his release. Jan Agha's father submitted an application to the court, prompting Additional Sessions Judge Nowshera Muhammad Asif to take action. The judge ordered the registration of a formal case and a departmental inquiry against the accused police officer within ten days for allegedly accepting a bribe of 250,000 rupees and illegally detaining Afghan migrant John Agha for 26 days.
The judge also instructed the Anti-Corruption Department to conduct an inquiry and file a case against Sub-Inspector Tayyab, the in-charge of Badrashi police station.
To the family's dismay, as they left the court premises with a copy of the judgment, they were accosted by armed individuals dressed in white. The assailants allegedly assaulted them, attempted to kidnap them, and even threatened their lives. Despite their resistance, the victims managed to seek refuge within the court's premises.
In response to the incident, Fida Afridi Advocate, the President of the District Bar Association Nowshera, and Finance Secretary Farhan Yousafzai Advocate swiftly arrived at the scene and promptly informed the District and Sessions Judge of Nowshera and the District Police Officer about the distressing episode in writing.
However, the Nowshera Police have claimed ignorance regarding the incident involving the Afghan migrant youth, Jan Agha.
Hits: 7