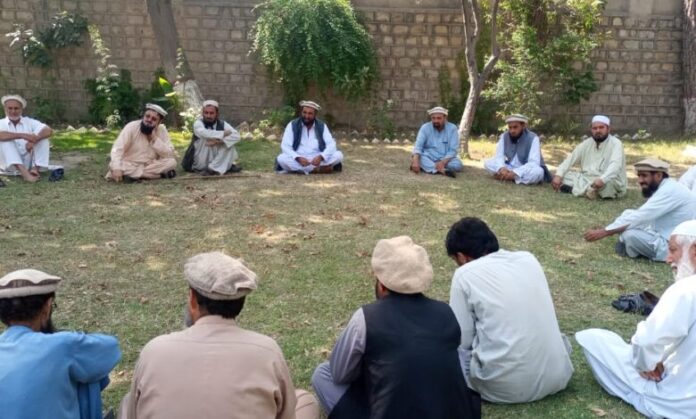 Ali Afzal Afzaal
Elders of the Manato area in the Kurram district are urging officials to take action to improve the educational conditions of the backward region.
A Jirga was held in Manato, where educational experts and leaders such as Qari Gul Rehman and Nawab Khan, Ghazni Gul, and others drew the attention of Corps Commander Peshawar and officials of the Education Department to the lack of educational institutions for both boys and girls in the area. The absence of educational institutions is causing girls to be deprived of education, as there are no schools for them to attend, stated the Jirga members.
The leaders noted that the mother's lap is a child's first school, and an educated mother will give birth to educated children, contributing to society's progress, adding that despite the government's claims of setting up educational institutions, there are no such institutions in Manato, which is an issue in this backward area.
The leaders have requested admissions for boys and girls in Cadet College and Army Public Schools to be given priority, and for male and female technical centers to be established, so that the children can become efficient citizens of society.
Malik Mazeed Khan, the head of the area, stated that after matriculation, their daughters cannot go to distant areas for education, resulting in their daughters being deprived of education.
Meanwhile, a student named Nargis Bibi, who is in class 10, expressed her worry about her future, as there are no college classes in her locality and she cannot afford to go elsewhere to study.
Also Read: Beyond Grades: A Holistic Approach to Education for Mental Health and Success
Qari Gul Rehman, the principal of High School Manato, stated that they are spreading the light of knowledge in the area with fewer resources and staff, but the government needs to take more steps.
Social leader Pathan Abdul Khaliq emphasized that the secret to development lies in education, and progress in this field is crucial for overall progress.
The Chief Coordinator of Pakistan Red Crescent Khyber Pakhtunkhwa, Habib Malik Orkazai, also belongs to the backward area of Central Kurram and is striving for development in the region.
Meanwhile, District Education Officer District Karam, Faridullah Mehsud, stated that various measures are being taken to remove educational backwardness in Central Kurram, adding that the officials are establishing new schools in the area and also focusing on improving the existing schools.
Hits: 12