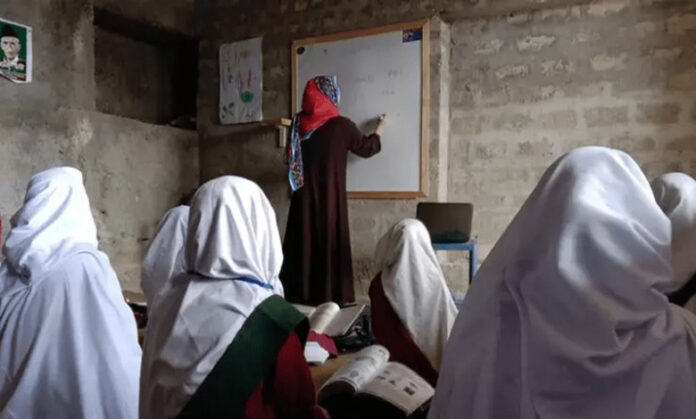 Muhammad Bilal Yasir
"Leaving home for school every morning with the hope that one day I will become a doctor and serve the children and women of my area; I didn't know that after passing my matriculation, I will also stay at home forever like other illiterate girls."
This is the case of 16-year-old Salma Khan from Mamoond, Bajaur, who after her matriculation certificate lost her further studies due to the lack of a girls' college in the nearby area.
Salma said that the girls' college is 22 km away from her locality, due to the economic crisis, her parents could not afford the transport expenses and it was difficult for her to travel by public transport, which is why her dream of becoming a doctor remained unfulfilled.
She said that this is not just her story but there are thousands of girls in the remote areas of Bajaur, whose areas do not have the facilities of girls' colleges, which is why thousands of girls are deprived of higher education.
Also Read: Lack of Teaching Staff impedes Girls' Education in Bajaur
Mashooq Khan, a resident of Mamoond, said that the population of Bajaur district, which is integrated into Khyber Pakhtunkhwa, exceeds 1.5 million, but there is only one college facility for girls in the entire district, a girls' College located in the district headquarters Khar.
He said girls from the remote areas; Mamoond, Barang, Charmang, Nawagai, and Salarzai, do not have access to the abovementioned college, and that's why most of the girls miss out on getting college-level education after matriculation.
Another social worker, Malik Shah Wali Khan, said that there is no higher secondary school for girls in Mamoond, the most populous tehsil of Bajaur, while no intermediate or Degree College has been built there.
According to District Education Officer Bajaur Shireenzada, among 265 villages of Bajaur district, there are some that lack girls', and somewhere there is no boys' primary school, which may affect the educational future of children.
He said that apart from these villages, there are other small villages, but due to the fact that their population does not consist of 800 people, no recommendation can be made to build a school there.
According to a former DEO, Lubna, there are 360 primary schools for boys and 184 primary schools for girls in Bajaur.
Similarly, there are 64 middle schools, and 35 high schools for boys, and 42 middle and 14 high schools for girls. said the former DEO.
Hits: 33