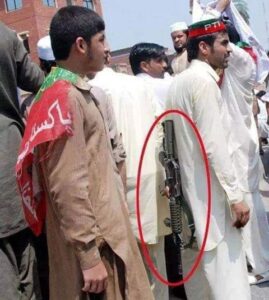 Iftikhar Khan
Here we have a picture, circulating on social media, of a PTI worker armed with an automatic machine gun, allegedly guarding Zaman Park, Lahore.
Fact Check: The above photo is not of Zaman Park but of the Pakistan Tehreek-e-Insaaf rally in 2014.
The photo of the armed PTI worker was shared on Twitter by a well-known anchor person, Dr. Danish, on 15 March 2023 with the caption "Who are these people? Identify whether they are PTI workers from Lahore or terrorists from outside. And look at the weapons! Does the common worker have such an automatic weapon?"
He tweeted in connection with the ongoing tension in Zaman Park for the last three days where the police of Lahore and Islamabad are trying to arrest PTI Chairman Imran Khan, but PTI workers are not allowing them to enter.
Meanwhile, there were also clashes between the police and PTI workers, the police shelling the protesters with tear gas while the protesters were pelting stones, in some videos the protesters were also seen attacking the police with petrol bombs.
The private TV channel anchor's tweet has gone viral and has been viewed nearly 500,000 times, retweeted by more than 3,100 people, and liked by more than 4,800 users.
The tweet is also drawing mixed opinions from Twitter users, with some criticizing PTI on how party leaders and workers can take the law into their own hands. On the other hand, Dr. Danish is also criticized by many saying that he has re-edited and shared the old picture just to take on Imran Khan.
Many Twitter users have identified the building behind the photo as the front of the Peshawar Press Club and the Rescue 1122 office, while many have said that the person carrying the weapon is a bodyguard of a PTI MNA. Many users have also called it Photoshopped.
Photo Reality: The photo shared by the news anchor has been doing rounds on the internet since 2014.
According to TNN's fact-check results, the photo has been shared dozens of times since PTI's Azadi March in December 2014 during various protests and demonstrations.
In 2014, many politicians including Miftah Ismail, Khurram Dastgir also shared this picture and raised questions about PTI's peaceful protest in Karachi.
Senior journalist Hamid Mir also shared this photo on March 25, 2022, captioning it as, please avoid bringing weapons in political rallies and processions, weapons are not only a threat to human lives but also to your political ideology.
Many more videos and pictures are being shared contrary to the facts regarding the ongoing police operation to arrest Imran Khan in Lahore, some shared by the opposition parties and some by the very own supporters of PTI.
Hits: 28