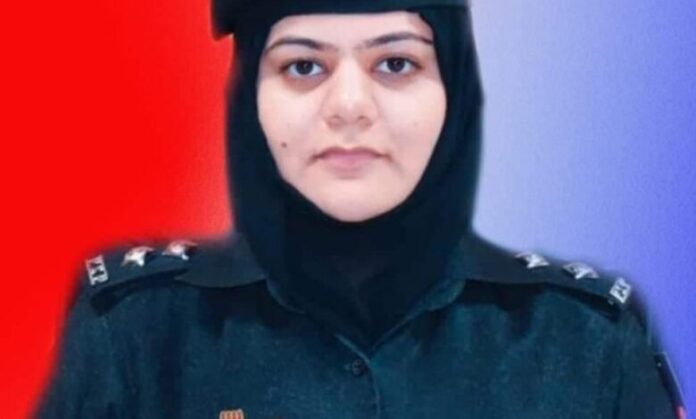 Abdul Sattar
Resham Jahangir, a female police officer, has been appointed for the first time in the history of Mardan Police. She believes that her appointment has made it easier for women to register complaints and share their problems with the police.
This is Resham's first appointment after passing the Central Superior Services (CSS), a competitive examination, and she is proud to be the first woman police officer in Mardan.
She hails from the Gujranwala area of Punjab and is the eldest among her siblings. She credits her father's support for her success in education and her achievement of passing the CSS exam.
Also Read: Women artisans in Lower Dir keep the tradition of Dir cap-making Alive
Resham has established a women's desk in the police circle of Sheikh Multoon, with permission from the district police officer. The women's desk has been activated in all police circles throughout the district where lady constables are present. Women can now report their problems and issues to female constables without any hesitation.
As a woman police officer, Resham is well aware of the problems women face. Therefore, she conducts a short workshop every month for the independent staff in her police stations to educate them about the treatment of women. The staff in police stations has been trained accordingly.
Whenever a woman files a complaint, Resham makes sure to ask her about her experience with the staff in the police station. If the woman is not satisfied, Resham tries to improve the behavior of the staff towards women.
Thanks to Resham's efforts, women are now more comfortable approaching the police and filing complaints without hesitation. She has also released messages in open court and on social media to raise awareness about women's rights and help them with social problems.
Measures to Protect Women from Harassment During Eid Shopping
In order to protect women from harassment during Eid shopping, Resham and her team deployed lady police officers in plain clothes and uniforms in different markets where women shop. They also shared complaint cell numbers for women facing harassment.
To make it easier for women to report harassment complaints, Resham has issued her official mobile number exclusively for women to message or call. This is especially useful for women who hesitate to come to the police station due to cultural or other reasons.
Resham has been serving in the Mardan district of Khyber Pakhtunkhwa for five months, and in that time, men in the area have not felt uncomfortable with her presence. She has not received any complaints so far, but she is aware of the culture and values of the area and performs her duties with care.
Resham's appointment as the first woman police officer in Mardan has brought about positive changes in the community, making it easier for women to report their problems and complaints without hesitation. Her efforts to raise awareness about women's rights and protect them from harassment during Eid shopping are commendable.
Hits: 52