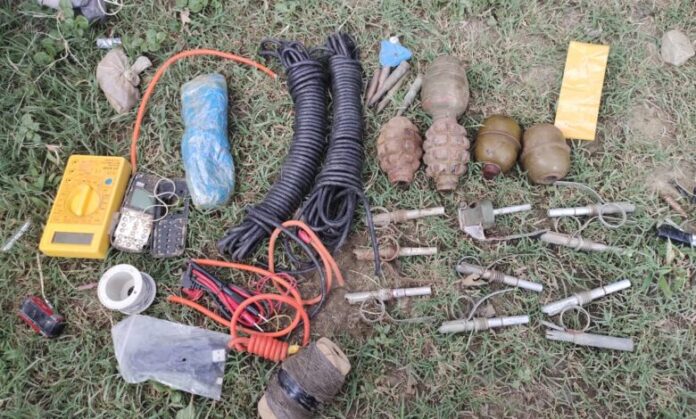 A significant act of sabotage has been thwarted in Bajaur, as a vigilant response led to the safe defusal of 9 concealed rocket missiles in the Kas Krewand area, within the jurisdiction of the Wara Mamund police station.
Promptly acting upon intelligence received from the perpetrators regarding the presence of explosive materials in the Krewand region, a swift and coordinated operation was undertaken under the direction of District Police Officer Bajaur, Nazir Khan (PSP). Spearheaded by Circle DSP Sattar Khan, the adept Bomb Disposal Squad, led by SI Ehsanullah, effectively neutralized the hidden explosives. Their timely action averted potential devastation, securing the area from harm.
Also Read: Vibrant Jubilation Sweeps Pakistan on 76th Independence Day
Notably, a rigorous search and strike operation, conducted jointly with Bajaur scouts over the past week, yielded substantial findings. The diligent efforts of the police bomb disposal squad resulted in the discovery of an assortment of explosives clandestinely stashed by malevolent elements across the district.
The cache encompassed an array of weaponry, including machine guns, IEDs, mortar shells, RPG-7 launchers, hand grenades, and other implements employed for sabotage.
Just a day prior, a security operation in Bajaur culminated in the elimination of four terrorists and the injury of one, albeit at the cost of a valiant security official's life during the firefight.
The Pakistan Army's Public Relations Department (ISPR) has affirmed that the neutralized and captured terrorists were extensively engaged in hostile activities against security forces. These individuals were also implicated in heinous acts targeting innocent civilians and perpetrating suicide bombings.
Furthermore, it's important to recall that on July 31, a tragic suicide blast shook the Jamiat Ulema-e-Islam workers' gathering in the Khar region of Bajaur. Regrettably, the blast claimed 56 lives and inflicted injuries upon 123 individuals.
Hits: 27