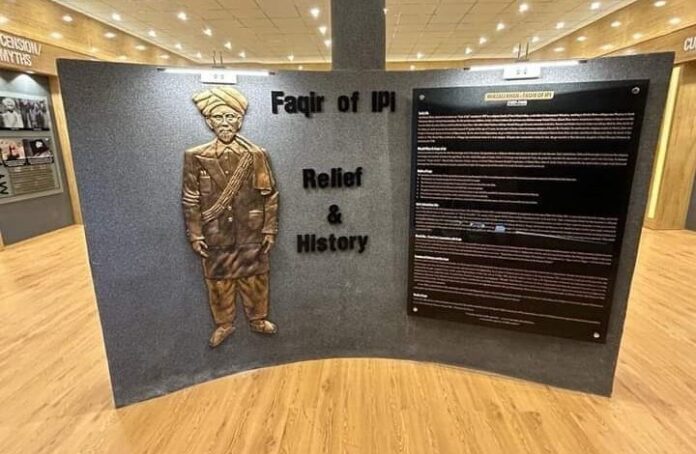 Muzzamil Dawar
In the historic center of Gurwek, located 45 km southwest of Miranshah, a remarkable tribute has been established to honor the esteemed hero of the War of Independence, Haji Mirzali Khan, widely known as Faqir of Ipi. This extraordinary individual's valiant efforts against British imperialism have been immortalized through the creation of a museum, showcasing the weapons and equipment utilized by him during his historic resistance.
Under the supervision of Deputy Commissioner Rehan Gul Khattak, the Pakistan Army has played an instrumental role in renovating the Faqir of Ipi shrine and constructing a museum adjacent to it.
This initiative aims to preserve the historical significance of Haji Mirzali Khan's legacy and provide visitors with an opportunity to delve into the extraordinary life and achievements of this revered freedom fighter.
Also Read: Fact-Check: Viral Photo Misidentified as Victim in Stabbing Case
The newly established museum proudly exhibits the weapons and artifacts that Haji Mirzali Khan wielded during his remarkable struggle. It serves as a testament to his unwavering determination and unwavering commitment to the cause of independence. Furthermore, significant efforts have been made to restore the caves that once served as shelters for Faqir of Ipi's soldiers, ensuring the preservation of his residence and safeguarding the arms manufacturing factory.
Deputy Commissioner Rehan Gul announced that the museum's construction has been successfully completed, and it will soon be accessible to the public. This momentous endeavor not only allows locals to deepen their understanding of their region's history but also invites national and international tourists to witness the heroic legacy of Haji Mirzali Khan, the Faqir of Ipi.
Remembering the Courageous Faqir of Ipi
In an era dominated by prominent political leaders in the independence movement, tribal chiefs, and local leaders also played a significant role in resisting British imperialism through armed struggle. Haji Mirzali Khan, affectionately known as Faqir of Ipi, stands out among these illustrious mujahideen.
Hailing from the Kurta village in Shankai, located in the Khajuri district of North Waziristan, Haji Mirzali Khan was born in 1847. On April 16, 1960, this courageous warrior bid farewell to the mortal world, leaving behind a profound impact on the struggle for independence.
As a testament to the remarkable legacy of Haji Mirzali Khan, the civil administration and security agencies have painstakingly transformed Gurwek Center into a captivating tourist destination of immense cultural and historical significance.
The center comprises four distinct sections, including the Faqir of Ipi Ziarat Center, the Faqir of Ipi Q Complex, the Faqir of Ipi Car Park, and the Faqir of Ipi Jail. These sections provide visitors with a comprehensive and immersive experience, allowing them to journey through the life and achievements of Haji Mirzali Khan, an icon of the independence movement.
Hits: 113