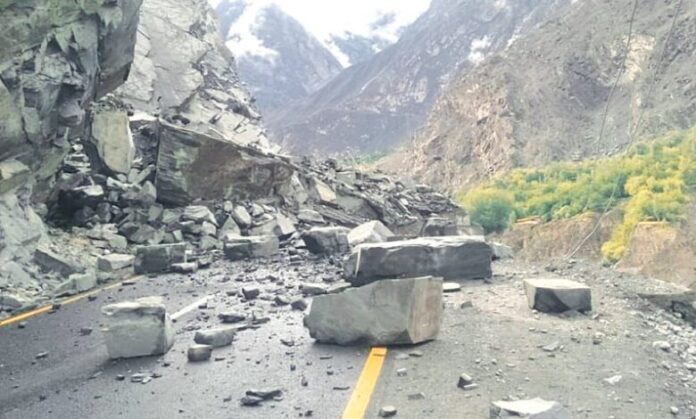 Umar Bacha
In the Shangla and Kohistan districts of Khyber Pakhtunkhwa (KP), heavy rains have caused rivers to overflow, leading to unfortunate consequences. One person lost their life and another was injured due to a landslide. The torrential downpour has also resulted in the closure of major roads, including the Karakoram Highway, leaving travelers and tourists stranded.
The relentless rainfall, which started on Thursday night and continued into Friday morning, caused rivers to flood and triggered landslides, obstructing the flow of traffic on crucial highways.
According to the district administration of Shangla, a tourist's Suzuki vehicle was hit by a landslide in the Ranyal area, resulting in the unfortunate death of the driver, Karamat Ali, a resident of Charsada. One of the passengers sustained injuries, while miraculously, the remaining nine tourists survived the accident.
Also Read: Shandur Polo Festival: Thrilling Matches and Colorful Festivities at World's Highest Polo Ground
Afzal Khan, the Station House Officer (SHO) of Korora Police Station, informed that the injured individual and the driver's body were transported to a nearby hospital, while the injured passenger was taken to Alpuri Hospital for medical treatment.
Meanwhile, Asadullah Khan, the Tehsil Chairman of Harban Tehsil in Upper Kohistan, reported that the Karakoram Highway, including Uchhar Nala, Goharabad Chalas, Patan, and Jaijal, has been blocked, causing distress among stranded travelers and tourists. He mentioned that the heavy rainfall has severely affected his area, resulting in road closures due to multiple landslides.
Waqar Ahmad, the Assistant Commissioner of Dasu, provided an update, stating that most parts of the Karakoram Highway have been cleared for traffic, with ongoing efforts to restore the remaining sections.
It is important to note that yesterday, a tragic incident occurred in Shangla district where eight children lost their lives and one was injured due to a landslide on a cricket ground. Deputy Commissioner Hasan Abid, while addressing the media, expressed his sorrow over the incident, stating that the children were playing in the Murtung area when the landslide occurred, burying them under the debris.
Hits: 12