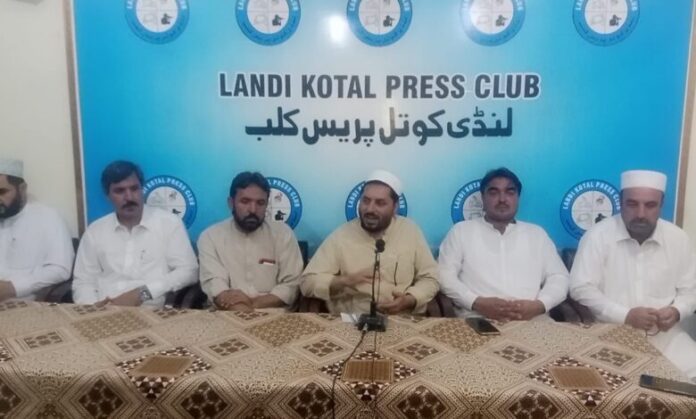 The surge in recent terrorist incidents within Tehsil Bara is causing heightened concern. Targeted killings and assaults on checkpoints have sadly become routine occurrences. The people of Bara, who had been displaced due to two decades of conflict, are now finding themselves being thrust back into the throes of war. These sentiments were expressed by Shah Faisal Afridi, the President of the Bara Political Alliance, during a press conference at the Landikotal Press Club. He was joined by his colleagues, Advocate Farhad Afridi, Chiragh Afridi, Khan Wali Afridi, and Zahid Afridi.
Shah Faisal Afridi emphasized that the Bara Political Alliance is firmly committed to a peaceful and unarmed struggle. Their primary plea is directed towards state institutions to urgently address the pressing need for peace. To amplify their message, they have successfully organized the Tirah Aman March and Bara Aman March, which saw participation from thousands of individuals. These marches aimed to draw attention to the critical demand for peace from the authorities. Looking forward, they are gearing up for a significant peace rally on August 12 at Bara Bazar, which is anticipated to unite leaders from various political parties across the province.
Also Read: Man Kills Pregnant Wife in Kohat; Drug Addiction Blamed
During the press conference, Shah Faisal Afridi highlighted that the gathering was convened at the Landikotal Press Club to extend an open invitation to all tribes residing in the area, including the Shinwari, Shalmani, and Afridi tribes. The urgency stems from the fact that Bara is once again grappling with turmoil. The region is grappling with a resurgence of targeted killings, extortion, and even suicide attacks. Furthermore, the Tirah Valley forests have fallen under the control of unidentified militants, who have set up camps there. If not contained, the flames of this unrest threaten to spread beyond the boundaries of Bara, potentially engulfing the entire province, including Landikotal. Consequently, Shah Faisal Afridi implores the spirited individuals and youth of Khyber district to actively participate in the forthcoming March 12 rally in Bara Bazar. This demonstration holds the power to shatter the chains of fear and reclaim peace for the region.
Shah Faisal Afridi affirmed his unwavering commitment to ensuring the success of this gathering. He earnestly requested the district administration and police to take measures to ensure the security and safety of the event. He also expressed wholehearted support for the police force's ongoing protest, recognizing their vital role as the frontline guardians of peace. Shah Faisal Afridi further declared that the Bara Political Alliance stands in full solidarity with the demands of the police and stands ready to stand alongside them.
In a show of solidarity and unity, the President of the Landikotal Political Alliance, Murad Hussain Afridi, and his cabinet members pledged to mobilize a substantial number of participants from Landikotal to bolster the rally's impact and success.
Hits: 17