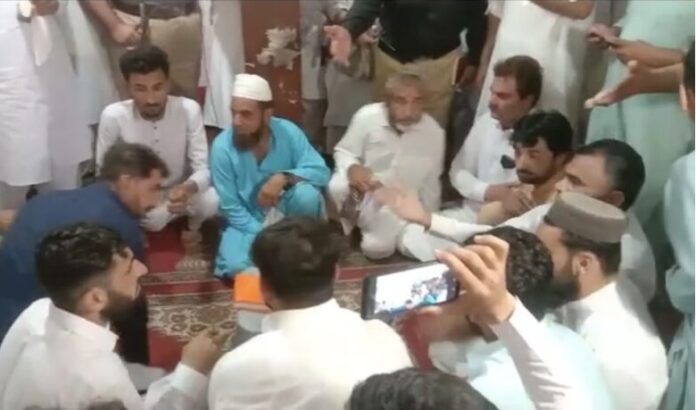 Abdul Sattar
Maulvi Nigar Alam, who was accused of blasphemy and killed in the Sawaldhir area of Mardan, has been declared innocent after a consensus was reached between his family and the accused parties.
A local Jirga, led by scholars, including Qazi Maulana Idris, Tufail Ustad, Haji Vakil, Muhammad Yasir, and Gul Mast, concluded that Maulvi Nigar Alam was falsely accused and did not deserve such a tragic fate.
Zahoordad, a member of the Jirga, stated that on May 8, during a PTI protest demonstration in Sawaldhir, Maulvi Hafiz Nigar Alam allegedly uttered inappropriate words.
While the scholars acknowledged his mistake, they emphasized that he should have been handed over to the law rather than being subjected to violence. The unanimous decision of the scholars led to the forgiveness of the accused by the victim's family.
Also Read: PTIP Announces First Jalsa: Emphasizing Peace, Development, and Prosperity
During the Jirga, cases were registered against 104 people from Sawaldhir, some of whom were arrested while others obtained bail. The Jirga agreed that the accused would provide Rs 45 lakh as blood money (Deet) for supporting the late Maulvi Nigar Alam's children. However, the family returned Rs 10 lakh to the Jirga, keeping Rs 35 lakh.
Maulana Idris, the Qazi of the area, stressed that provocative actions leading to unrest should be avoided in the future. Ali Gohar, the brother of the deceased, expressed gratitude to the Jirga leaders for their efforts in restoring peace and order in the area and establishing the innocence of Maulvi Nigar Alam.
On May 8, during a PTI protest in Sawldhir, some words were allegedly spoken by a local scholar that led to accusations of blasphemy and his brutal killing. The incident resulted in cases of murder and terrorism being registered against 104 individuals, including Maulana Irfanullah, a former district councilor of JUIF.
Hits: 51