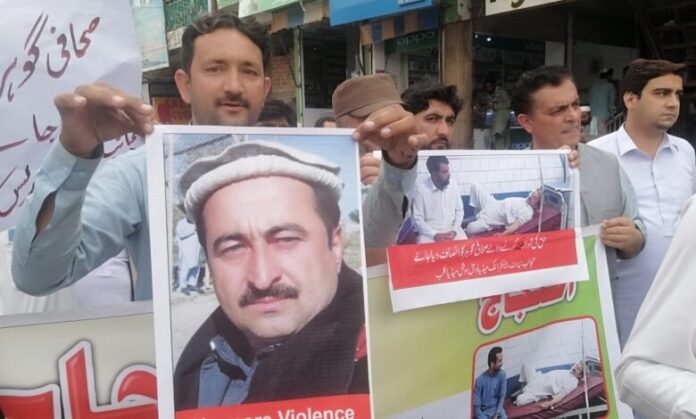 Journalists in the Bannu district of Khyber Pakhtunkhwa protested against the alleged abduction and torture of National Press Club Bannu's President Gohar Wazir.
During the demonstration, held outside the National Press Club Bannu, journalists, and social media workers demanded the arrest of those responsible for the kidnapping and filing of an FIR. They also asked the government to take emergency measures to protect journalists, as abduction and intimidation have become increasingly common and alarming.
According to reports, armed men in cars with tinted windows patrol the streets of Bannu every day, but the police have so far refused to take any action against them.
Also Read: Heavy firing reported as militants attack three security force units in Lakki Marwat
On April 19, Gohar Wazir was abducted by unknown persons from Bannu City. He was released 30 hours later after being subjected to torture. The incident has drawn strong condemnation from various press clubs in Khyber Pakhtunkhwa, including Bannu.
Bannu police have reportedly filed a daily report on the abduction, and an FIR is expected to be filed soon. However, the Khyber Pakhtunkhwa Union of Journalists has called on the government and local administration to take immediate action to arrest those responsible.
The President of the Pakistan Federal Union of Journalists Workers, Shamim Shahid, and Secretary General Raja Riaz have also strongly condemned the incident, calling on the caretaker Chief Minister of Khyber Pakhtunkhwa Muhammad Azam to take action against those involved in the abduction of Gohar Wazir.
Hits: 26