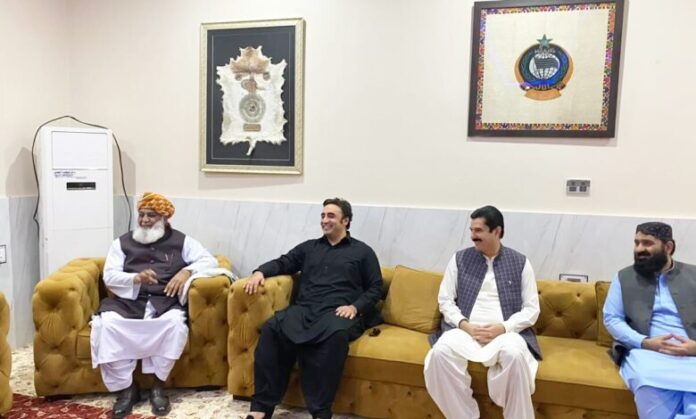 A recent meeting of government allies in the Prime Minister's House revealed a divide among the parties regarding negotiations with the opposition, with Jamiat Ulema e Islam (JUI) opposing the talks with Imran Khan.
Sources reveal that during the meeting, Bilawal Bhutto Zardari pushed for dialogues with the opposition, while Muttahida Qaumi Movement (MQM), Balochistan National Party (BNP), and Khalid Magsi agreed with Bilawal's proposition. Chaudhry Salik and Mohsin Dawar also supported Bhutto's stance. However, JUI opposed the idea, taking a stand against Imran Khan as a political force and opposing dialogue.
During the meeting, Zain Bugti expressed that they were not against dialogue but believed Imran Khan to be untrustworthy and a liar. Bhutto, on the other hand, argued that closing the doors of dialogue would be undemocratic and against their principles. He emphasized the need to take the path of dialogue to steer the country out of the crisis.
Also Read: Devastating landslide at Torkham claims six lives, dozens feared buried
The meeting of government allies concluded without any consensus due to the disagreement over negotiations with the opposition.
In another development, Pakistan People's Party Chairman and Foreign Minister, Bilawal Bhutto Zardari, along with his delegation, visited Maulana Fazlur Rehman's ancestral home in Abdullkhel.
During the meeting, both parties discussed the positive constitutional role of sustainable democratic institutions in the country, as well as the problems faced by the country on the internal and external front. The leaders of both parties also reviewed the performance of the PDM government during the last year.
The delegation conveyed a special message from ex-President Asif Ali Zardari to Maulana Fazlur Rehman and expressed condolences on the death of the late Mufti Abdul Shakoor. The meeting also discussed the further improvement of CPEC issues, the commercial and economic importance of Gwadar, and taking steps to remedy the damage caused to these projects during the Tehreek-e-Insaf regime.
Hits: 10