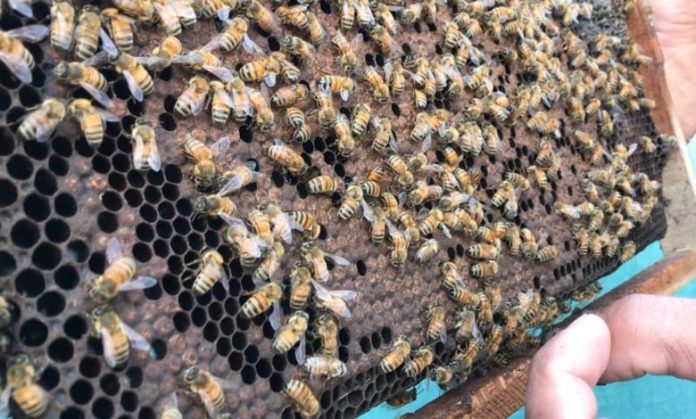 Anwar Zeb
Obaidullah, a beekeeper, transported 100 hives of bees to from Peshawar to Swabi earlier in August last year. It rained all night soon after he transported the hives, washing away all his hives. Obiduallh who has been associated with apiculture business for past two decades, said one hive cost Rs 9000. "I lost millions of rupees in one night," he said.
Thousands of people across the Khyber Pakhtunkhwa are associated with beekeeping. Similarly International Honey Market, located on the GT Road is considered as one of the largest honey markets in Asia. From this market, honey is exported to Middle East and other countries.  However, many of the many of those associated with honey business are depressed these days due to floods impact on their business.
KP Beekeepers Association figures show that bee hives were damaged due to prolonged rains and floods in 16 districts of the province last year. The figures show that 22,936 bee hives were washed away in floods while hundreds others badly damaged. "This has badly affected the honey production of the province," the association said.
Documents available with TNN show that beekeepers faced most of the damages in Nowshera district, where floods affected 70 honey bee farms. Similarly, flood waters inundated 25 farms in Peshawar, six in Mardan, four each in Charsadda and Swat, two in Buner, one each in Waziristan, Mohamand, Manshera and Haripur.
Afsana Begum, a beekeeper from Swat lost 200 hives due to the floods.
Floods washed away 124 honeybee farms across KP
Honey bee farm owners said that they carry their hives to wilderness and mountains to increase honey production.  However, they said that abnormal weather patterns, untimely rains and floods over the past few years have been badly damaging their business. They also complain that they also receive no help and compensation for their losses from authorities.
Sher Zaman, general secretary, KP Honey Beekeepers Association the August floods washed away 124 honeybee farms in the province. "Our losses amounted to over Rs 150 million," he said. However, he said that none of the affected beekeeper has received compensation from government. Besides, he said that government has excluded the honeybee farms from the compensation payment. "Floods washed away bee farms in chief minister constituency, but the beekeepers did not received anything," he said.
Sher said that they have prepared lists containing details of their losses; however, relevant departments have made a football of them, sending them to each other. "District administration sends us to PDMA and they ask us to go to other department," he said.
Besides, he said that government has completely ignored their industry.
However, a district administration official told TNN that they had held a meeting with beekeepers association. However, he said no one in the meeting talked about the damages to the bee farms. The official said that they have farms to help people in case of disasters; therefore, beekeepers can submit details their losses with them.
Hits: 13